A Beard Comb You Can Kill a Bear With: Hudson Design & Manufacturing

We like twins, usually of the female variety for completely prurient reasons. On the SHOT Show floor we met up with a set of identical twins who were, unfortunately, completely male and bearded. It wasn't all bad though, we got our hands on a beard comb that can also be a bludgeon. Mad Duo (Grunts: prurient )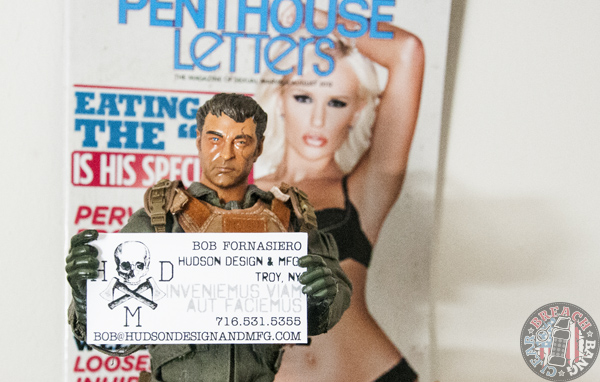 There are a lot a conflicted feelings going around regarding beards. Many dudes out there grow them because they can, and never give it a second thought. Others grow them to impress the ladies, fit into foreign cultures, keep their faces warm in the cold, or because they simply hate to shave. Unfortunately some grow beards to look like they have a TS/SCI clearance (it goes well with the Condor "operator" hat and calico jack patch) or let the world know they work at the corner coffee shop and can't change a tire unless it's on a fixed gear bicycle. 
Love them or hate them, beards are definitely a symbol of masculinity. And that's why so many men wear them, from sea captains and lumberjacks to frail whiny hipsters. They're a male fashion fad that long predates the invention of the razor. So for dudes who sport a beard for the right reasons, we offer you a look at a must-have accessory: the beard comb.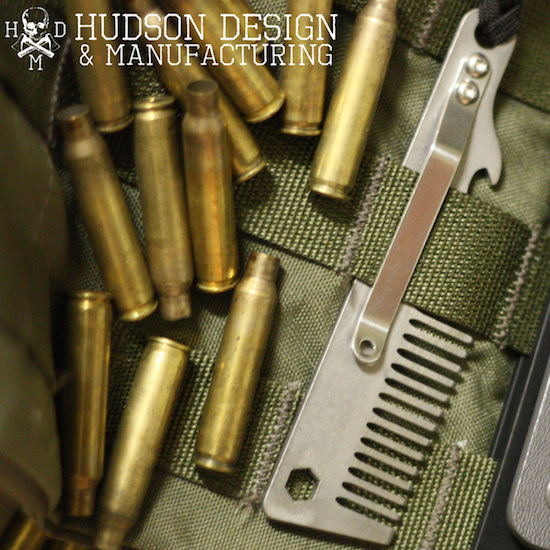 If you are the kind of dude that likes whiskey, black guns and starting fires with a bow drill, you probably don't give much thought to facial fashion. You like what you like, wear what you want to wear, and don't pay attention to critics who busy themselves hating on stupid subjects like acceptable whisker length. 
Bob and Mike Hudson, two bearded brothers with a youthful capitalist spirit, don't care about beard critics either. So they decided to start a design company that appeals to the modern American male. These men focused their telepathic-twin powers to form Hudson Design & Manufacturing in the Summer of 2013. Having met these giants, its safe to say that we wouldn't want to fight them in any capacity!  Both gents are avid supporters of the Second Amendment, and personify all things outdoor. Bob and Mike look like they'd be at home swinging an axe on a medieval battlefield or  a logging road in the Pacific North West.
Seeking new opportunities to support design and manufacturing in their home state of New York, they noticed many small businesses closing down or being driven out. The idea for a superior beard comb came from a trip to SHOT Show in 2014. Since the show is practically a festival of beards, they noticed few carried a comb, let alone one up to the task.  After returning home, Bob sketched out some ideas on a pizza box and Mike had them drawn up in DraftSight within an hour. The result was a damn near bulletproof beard comb for everyday carry. Using money from Kickstarter, they successfully launched their products this fall. Support was overwhelming, and social media spread the word quickly. If you wear a beard and know how to field strip an M4, their products are for you!

Currently the brothers offer three styles of beard comb: the Danger zone, the Capitalist and the Archer Actual. All three feature knife-style pocket clips, and are made from rugged stainless steel. The Archer Actual is what we would call a gentleman's beard comb, with longer length and rounded lines. The Danger Zone is arguably their most popular design, with a built in bottle opener and bit driver on the end. For those wishing to carry a smaller comb, the Capitalist is the shortest while still delivering the beverage opening ability. All are reasonably priced, considering how well made they are and the attention to detail they share. We are happy to see another small American business rise from nothing more than an idea and some hard work. These colossal twins have some great ideas, and we look forward to seeing their future projects come to fruition! If you are looking for a means to tame your own beard, or a unique gift for a fellow aficionado, give Hudson Design & Manufacturing a look. You'll be supporting a new company and will see nothing but good quality. 
Edit – make sure you check out Brass Pile too.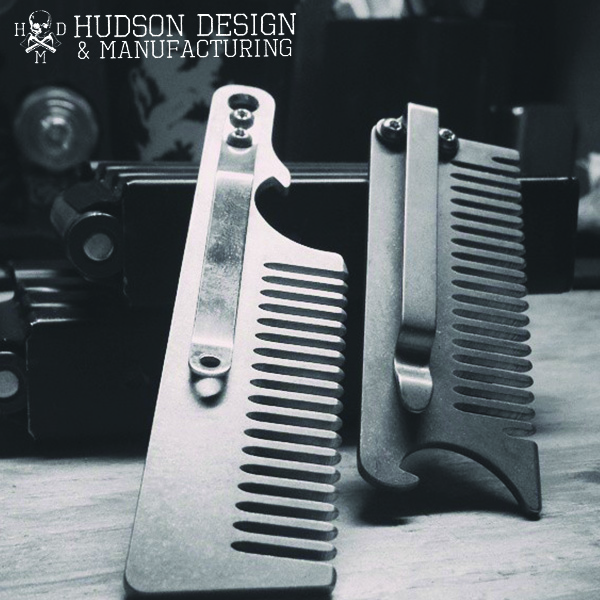 Mad Duo, Breach-Bang& CLEAR! Comms Plan Primary: Subscribe to our newsletter here or get the RSS feed. Alternate: Join us on Facebook here or check us out on Instagram here. Contingency: Exercise your inner perv with us on Tumblr here, follow us on Twitter here or connect on Google + here. Emergency: Activate firefly, deploy green (or brown) star cluster, get your wank sock out of your ruck and stand by 'til we come get you.

 This article may contain affiliate links. If you make a purchase using such a link, we will earn a small commission from that sale at no additional cost to you. 
Like what you read on Breach-Bang-Clear? Consider joining our Tactical Buyers Club.