MK25 DA/SA 50th Anniversary Pistol | Proven Arms & Outfitters
Proven Arms & Outfitters is offering a 50th anniversary Navy SEAL MK25 SIG SAUER pistol.

We're told the limited edition Navy SEAL Anniversary MK25 comes chambered in 9mm, engraved with the 50th anniversary logo, the SEAL motto "The Only Easy Day Was Yesterday." and 50th anniversary dates, meticulously cut scroll work, custom blackwood Hogue grips, and a high luster DLC finish.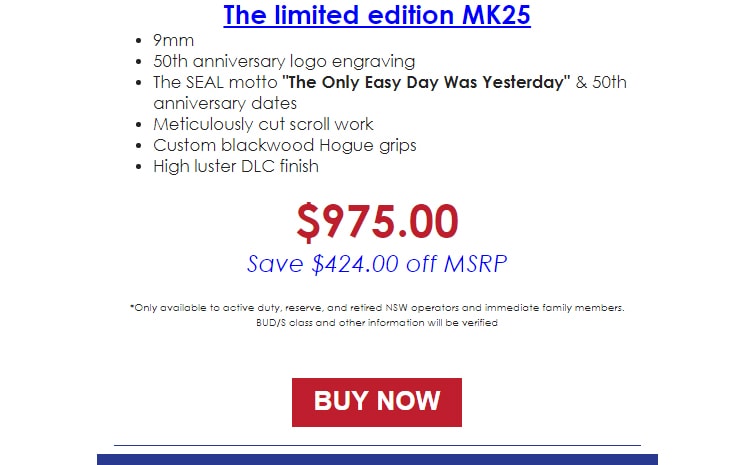 Online here.

---
Declare for Morning Wood!
Come, stroll the awe-inspiring aisles of the Morningwood Bazaar.  Earn the right to wear our sigil and speak our words.
If you wish to cite, syndicate, or curate our material, or if you're wondering about our please be so kind as to read our Terms, Conditions, and Disclosures.
Take heed! We have advertisers, sponsors, and affiliate relationships with some of the companies you will be reading about (particularly, but not limited to, archival posts). If you purchase one of those items, we will get a small commission from the sale at no additional cost to you. A lot of work goes into Breach-Bang-Clear; by making your purchase through one of our portals you'll be supporting our work. This will help us buy beer, bullets, and barbecue, and we won't have to put pop-up ads and other such stupid shit into our articles to pay our expenses.