5.11 Tactical's Boxpack – now in MultiCam Black

We got word just a bit ago that 5.11 Tactical (home to such alluring coquettes as David Hein Willem Driessen) has released a limited edition version of their Covert Boxpack in MultiCam Black. Previously available in Black (black), Storm (brownish), and Storm (grey), the Covert Boxpack is a pack we've discussed before. It's a rolltop style pack (water-resistant, not –proof) that doesn't doesn't have too much 5.11 Tactical brand labeling, which is a plus; "low-pro" gear frequently isn't, and labels are often part of the problem.
Grunts: coquette.
Some people will complain that the MultiCam Black color way is less than low profile, etc. etc., yada yada, to which we respond:
"First, 5.11 is going to sell a bunch of these whether you complain or not. Second, lots of people are wearing cammie colored shit these days. Worry about a pack with a reasonable profile less and your body language and haircut more — but most importantly avoid the SHOT Show tuxedo or contractor chic clothing combo. Wearing a day pack, even in a fancy cammie print? Not a huge flag, though definitely an indicator. Wearing this pack sporting a T-1000 haircut or a high'n'tight, Oakley Razors, pants with a gozillion pockets and desert-suitable boots? Why yes, that could be problematic." 
But we digress. Here's what 5.11 tells us about the pack.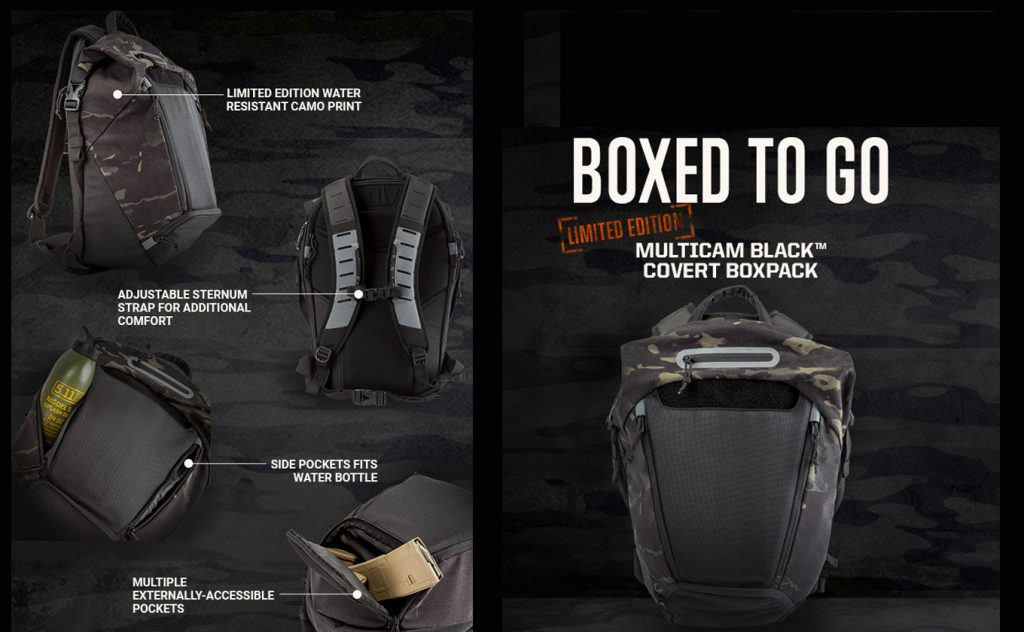 THE REASONING:
The Limited Edition Multicam Black™ Covert Boxpack is engineered for speed, agility, and dependability in any environment. A slide-adjusting sternum strap and reinforced padded shoulder straps ensure a stable and comfortable carry when you're on the move, and the roomy TacTec™ main compartment is designed to remain covert but allow fast access to your sidearm or backup. A water resistant finish keeps your gear dry in wet climates, dual side zip pockets are ideal for accessories or a hydration bottle, and internal elastic retention straps allow secure storage for additional magazines.
THE LOWDOWN:
All-weather roll top backpack
Multicam Black™ exterior
Multiple externally-accessible pockets
Dual size zip pockets with internal elastic retention
Slide adjusting sternum strap
Reinforced padded shoulder straps
Bottom pocket for general storage
SPECS:
1680D ballistic polyester
Water resistant finish
Authentic YKK® zippers
Durable Duraflex® hardware
Imported

Find it online here.
5.11 Tactical is a member of Joint Task Force Awesome; they help us keep the lights on.
---
Mad Duo, Breach-Bang& CLEAR!
Comms Plan
Primary: Subscribe to our newsletter here, get the RSS feed and support us on Patreon right here.
Alternate: Join us on Facebook here or check us out on Instagram here.
Contingency: Exercise your inner perv with us on Tumblr here, follow us on Twitter here or connect on Google + here.
Emergency: Activate firefly, deploy green (or brown) star cluster, get your wank sock out of your ruck and stand by 'til we come get you.