BotG: 5.11 Tactical Store Downers Grove [Chicago]
Last month we told you about the new 5.11 Tactical retail outlet in Chicago. Well, yesterday Tim the Russian and his pet Sicilian, Sheriff Nico, ventured down to the village of Downers Grove to take a look at the grand opening. Be sure to check out the gallery after Nico tells his story!
Despite yesterday's ridiculously cold temperatures, Tim the Russian and I ventured over to Downers Grove to check out the new 5.11 Tactical retail outlet opening there. It was a last-minute decision to go, something of an error as we later discovered, but well worth the hour drive to get there. Tim the Russian is always entertaining, and having POTUS in the car always gets you strange looks on the highway.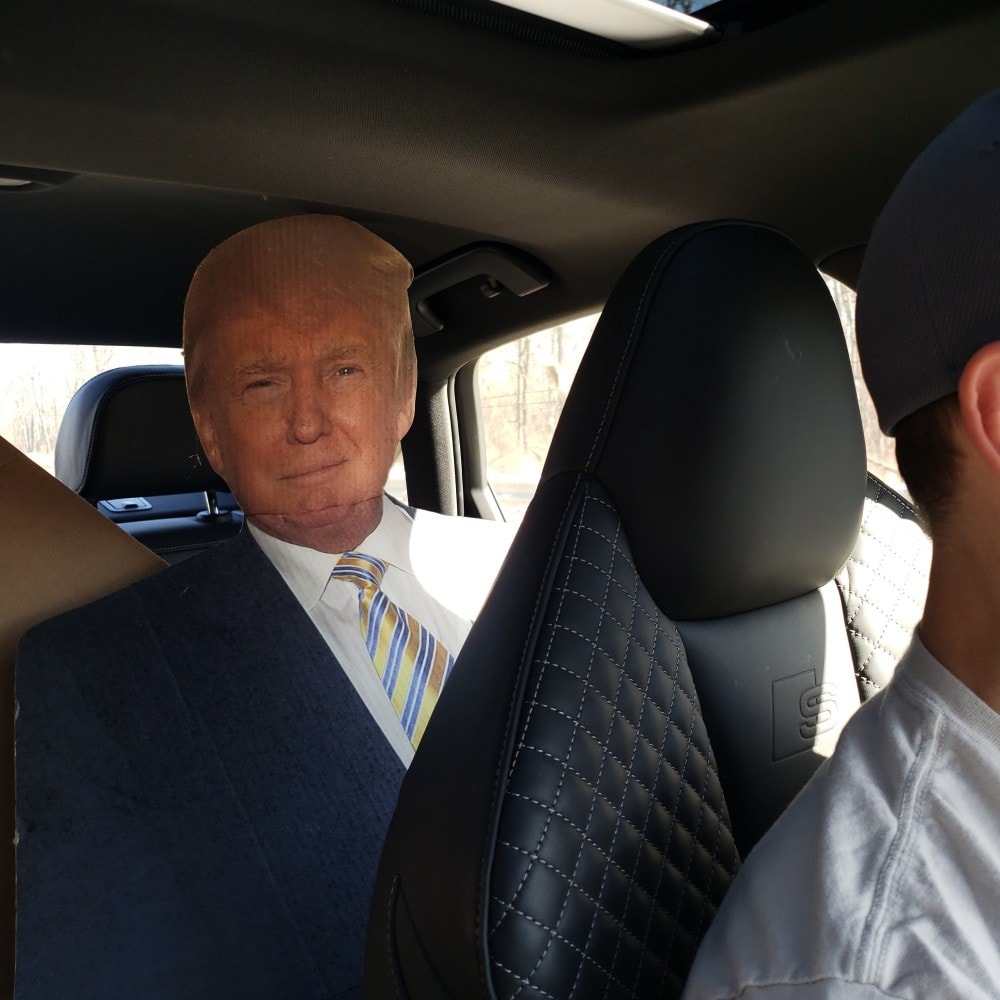 We expected a busy turnout, but much to our chagrin we arrived and there was a line wrapped around the damn building. The secret service wouldn't allow POTUS to proceed, so we had to take the reins, brave the crowd, and settle in for the long haul. While waiting in the sea of tactical goodness everyone was greeted with fresh coffee and power rings (donuts for you non-police folks). Happily, there were a number of great booths there to keep us occupied during the frigid wait.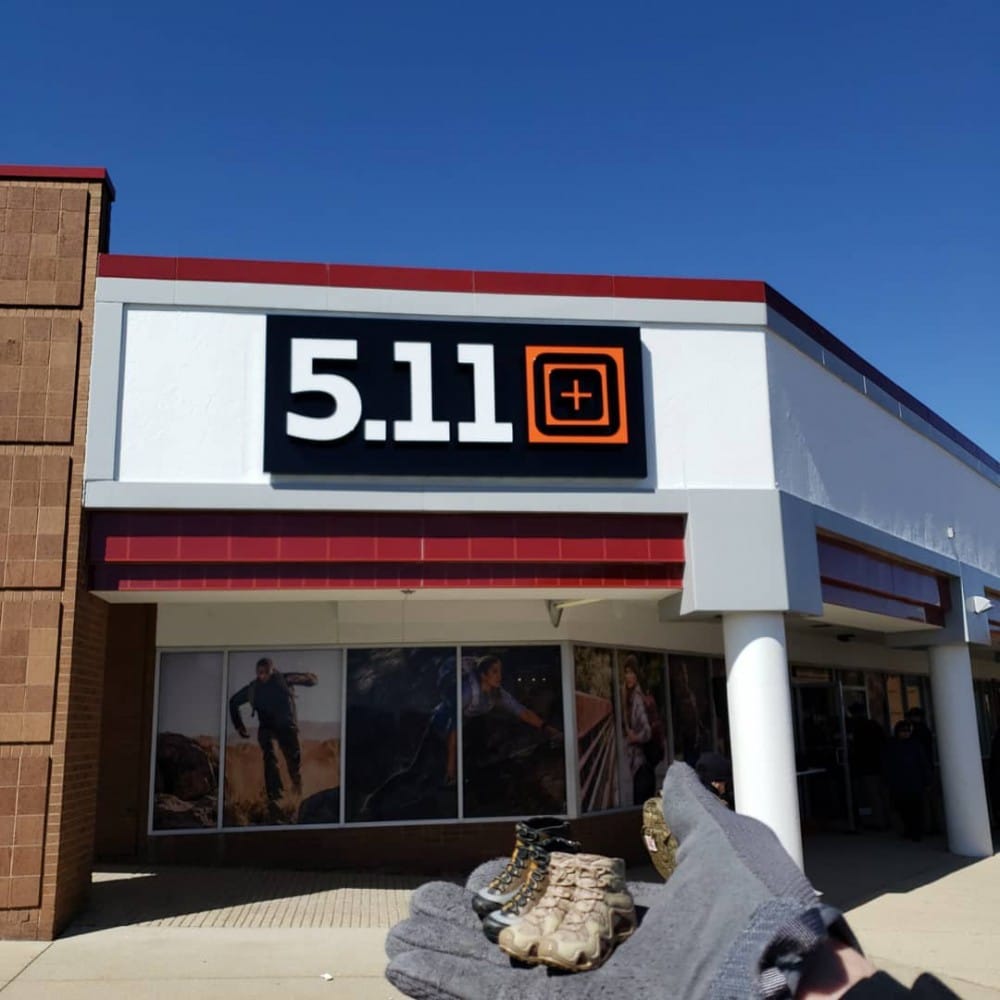 One tent that caught our eye was occupied by AllenForce. AllenForce is a non-profit that helps wounded veterans and their spouses. Donna Allen-Sebok, the co-founder (and hands-on worker in) the organization took some time out to talk to us.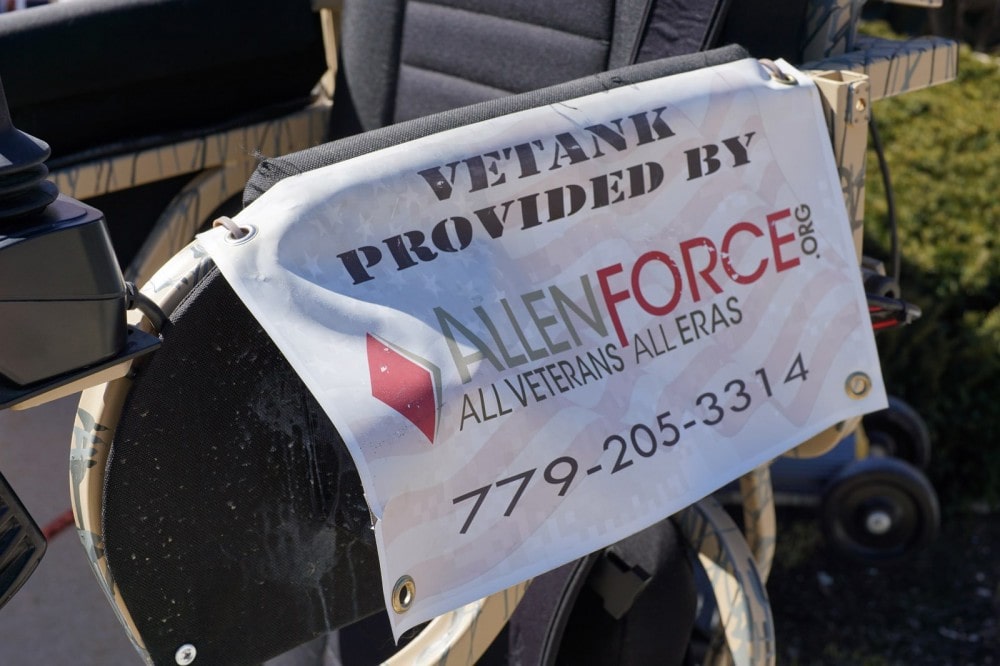 Their mission is to promote a healthy and successful lifestyle for all service members and veterans and their families. They offer services free of charge to spouses as well as all-terrain chairs for wounded veterans to get back to the outdoors.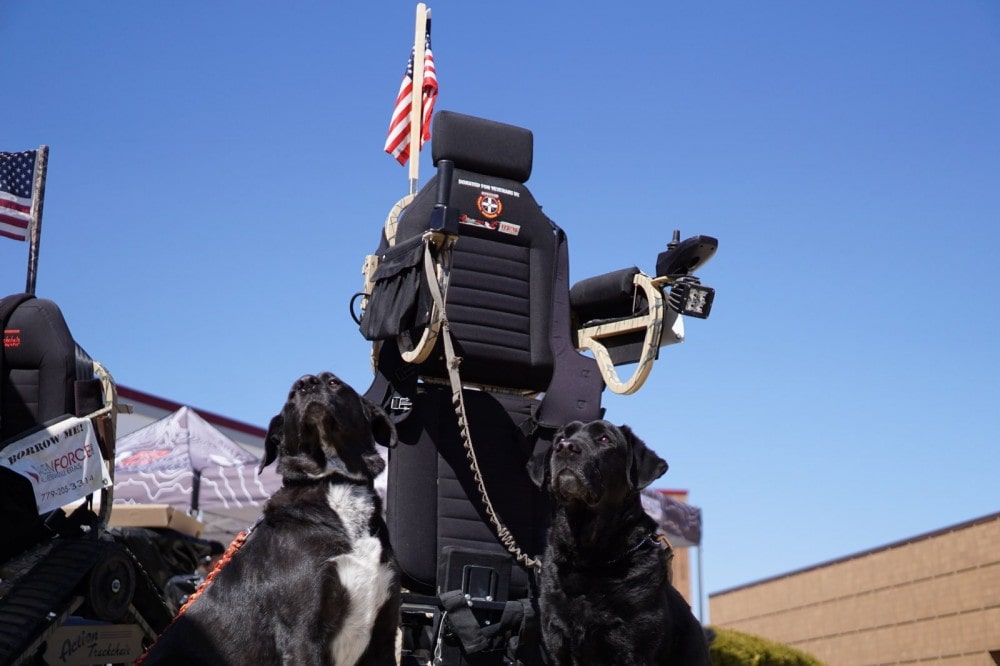 Afer battling through the crowd we finally made it inside (that's what she said) and my God, was it a sight to be seen. The line we'd seen wrapped around the store was now snaking through and occupying the interior. The entire place was bursting at the seams, and initially there was something like an hour wait just to check out.
The atmosphere was lively as a carnival without the creepy homeless-looking dudes running the rides, better even than that one shindig Marianna Rokita hosted in '03. There were smiles aplenty as customers from seemingly every walk of life fingerbanged a ridiculous array of equipment and apparel. If you haven't been into one of these stores, it. is. impressive. They have everything, and when I say everything, I mean everything. From entire walls of pants, bags, boots, accessories, tactical gloves, casual wear, and gloves, to flashlights, knives, and other EDC items, you could equip damn near an army with what's available.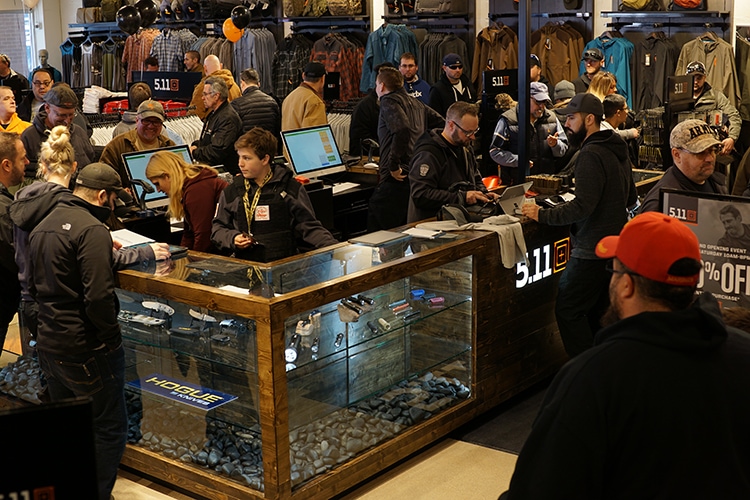 *sigh*…It was wonderful.
Ladies, they have gear for you as well. We must express our great appreciation to Kimberly for showing us 5.11's new Mesa pants and other haute 5.11 Tactical couture.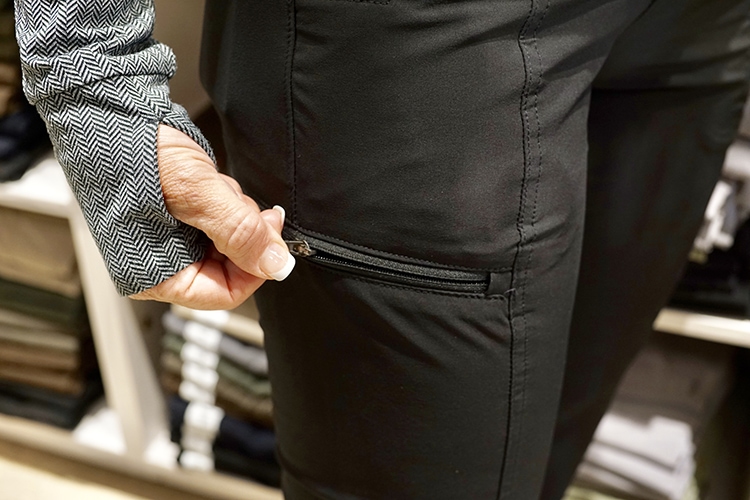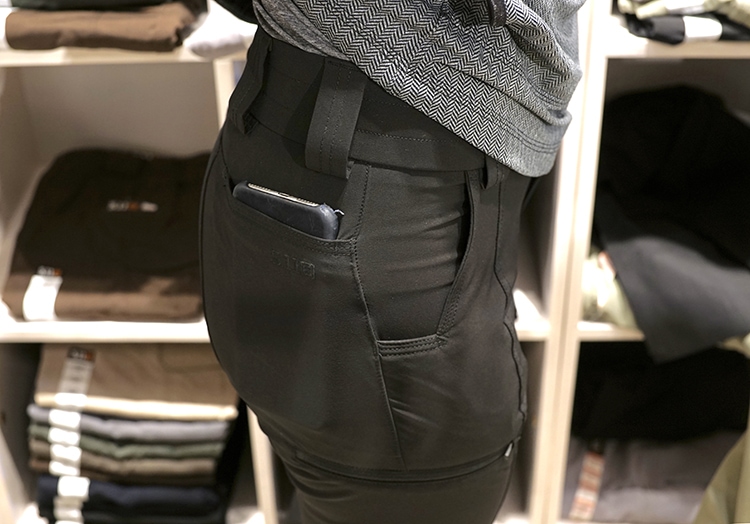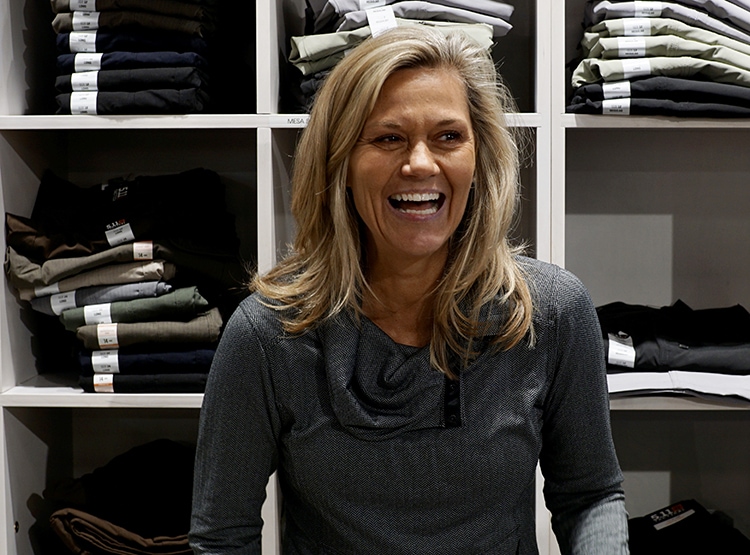 Can't get to a retail outlet? Don't want wait for standard shipping? Lots of 5.11 stuff is eligible for Amazon Prime:

One of the more impressive things to see were the head honchos on the ground talking and interacting with customers — and knowing WTF they were talking about. 
We first spoke with the Vice President of Global Retail and Merchandising for the company, Jeff Roberts, a very knowledgeable and engaging fellow with great hair.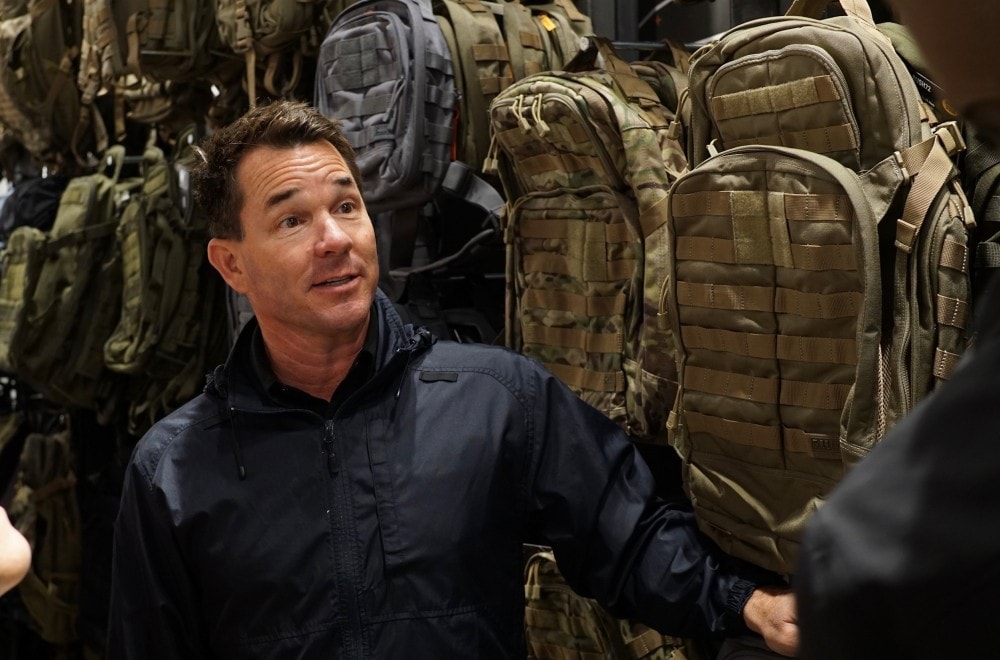 Jeff told us they'd spent nearly three years researching the right area to open this store, and settled on this area due to its central location. He and his were very happy about the opening and wanted to be there to make sure everything went smoothly, though after so many store openings (this is the 32nd) it sure seemed like they were getting the hang of it. Apparently, they're looking to have more stores in Chicagoland in the near future.
Jeff told local sources,
"Our customers had been asking from the very beginning for a 5.11 store in Chicago. Based on high consumer demand for our product and retail offering, Downers Grove is likely the first of what we see as a multi-store market for Chicago and its surrounding areas. Downers Grove specifically is due west of downtown Chicago, is easily accessible and is centrally located between Interstates 355 and 88, making it an ideal location for a 5.11 retail store."
We also spent some time with Chris Schneider, Director of Agency Relations. Chris was mingling, making sure everyone was good to go, and answering an unending litany of questions with remarkable patience and aplomb.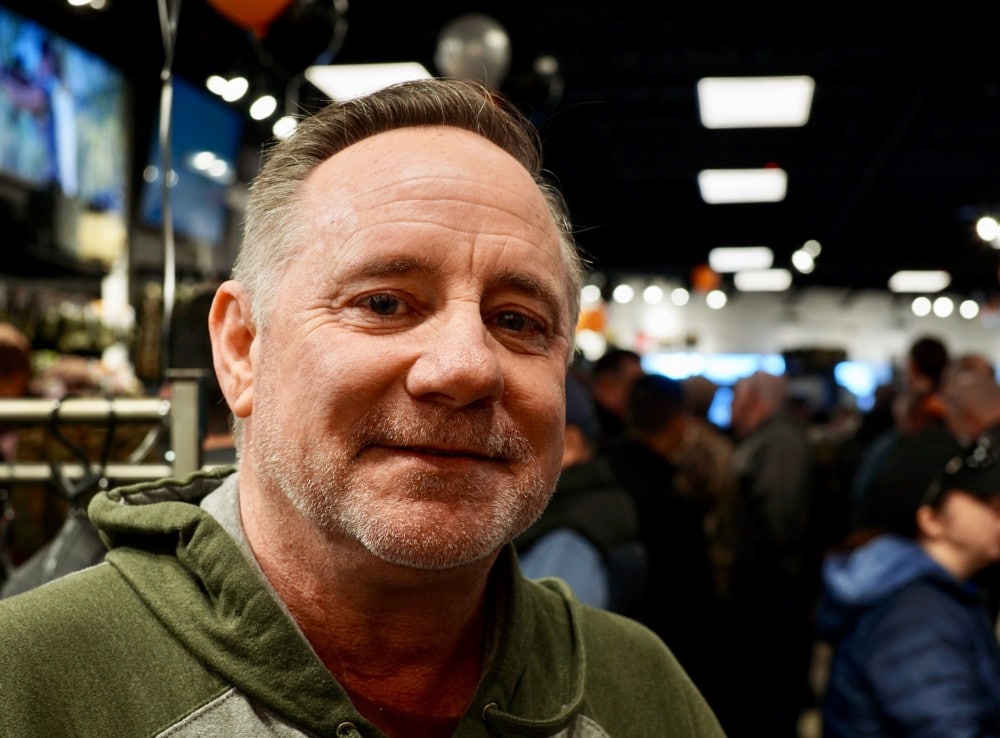 Grunts: aplomb.
Both men will remain in the store all weekend if you want to get by and pick their brains (and get your noms on with some badass bbq for lunch).
It was a great day trip for us and we appreciate the hospitality of their remarkable crew.
If you'd like to see if there's a 5.11 store near you, you can use their Store Locator Page.