5.11 Tactical Partners with Strider Knives
Bring it in, take a knee. 5.11 Tactical and Strider Knives have collaborated on a folder – the SMF.
There will only be five hundred and eleven of these made, and we're the first ones to have pictures of 'em. (It will be debuting in just a couple of days at SHOT Show 2014.) This knife owes its genesis in large part to Tom Davin, a former Marine from the reconnaissance community who appreciates a good blade, one of the 5.11 team who prefers Strider Knives and Duane Dwyer (who makes Strider knives). Davin was a Marine officer. Dwyer is a knuckledragger from way back. Interestingly, Davin reported to the 1ST MARDIV Camp Pendleton one month to the day before Dwyer did, so they were at least peripherally connected back in the 90s. They didn't actually meet though until last year at SHOT 2013, which we're sure would have been interesting. Dwyer is as trenchant as Davin is magnific.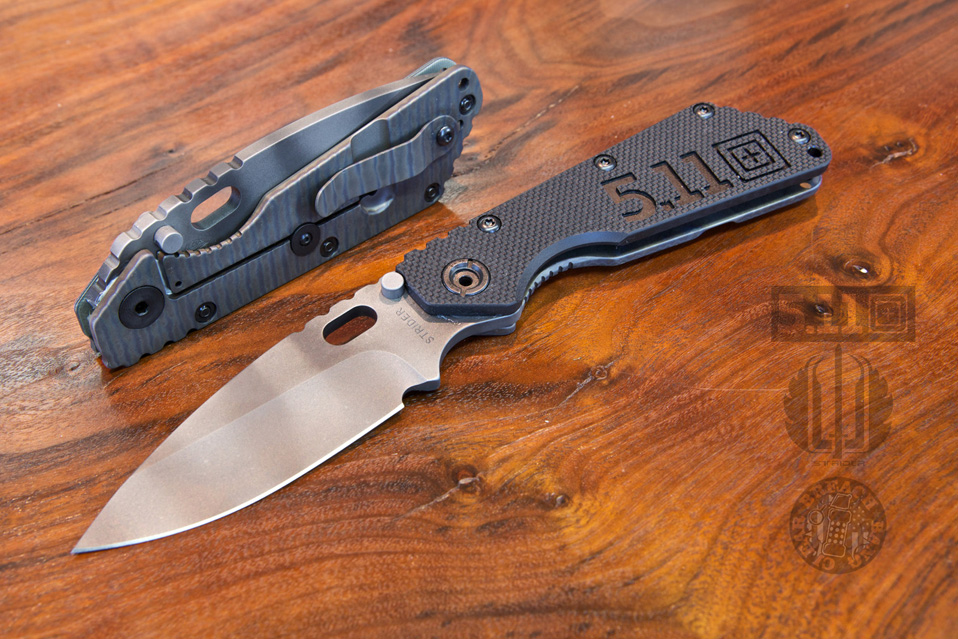 Grunts: trenchant and magnific. That's a twofer. You're welcome.
Almost all the SMF build will be done in house at Strider, to their own exacting standards (for instance, they won't laser cut anything, because it irreparably alters the raw materials). The design and aesthetics were finalized after several back and forth discussions and many, many text messages and pictures. Strider, by the way, does all their own non-destructive testing, including radiography (though they have to do that at UCSD). The have "ultrasound level 1 and level 2 testing apparatus" (whatever the hell that is), everything they need to do more than just to guarantee QC. As best we've been able to tell no other manufacturer can make that claim.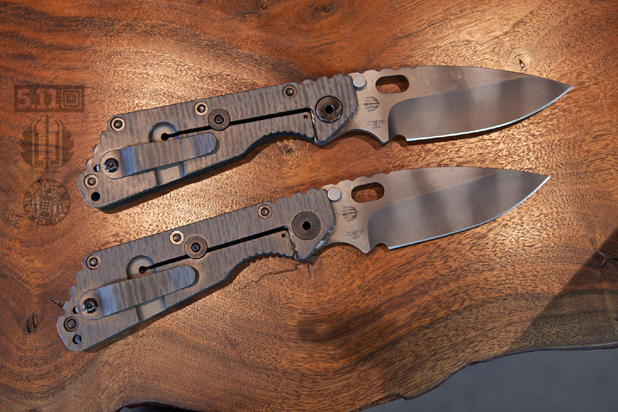 There's a lot to the story of Strider Knives, Dwyer, 5.11's new impetus towards high end Made in the USA tools and of course Tom – we'll share more of it later. For now we figured you'd want to take a look at it. We'll follow up soon with a more in depth article. We spent hours with Strider talking knives, metallurgy, working with 5.11, their ethos of craftsmanship…it was like drinking from a damn firehose crew-served weapon. Think we're kidding? Do you know what CTS-B75P is, or how it's works at the molecular level?
The next time we visit the Strider Knives shop we'll know to take aspirin and whiskey.
As you can see, each knife will come in a nylon load-bearing style pouch with a certificate of authenticity signed by both Davin and Dwyer. We know you're wondering. We don't have a price point yet, but it won't be cheap. This was envisioned, designed and engineered from the git-go to be a high end knife, and there won't be very many of them either. We're also not sure what SMF stands for. Strider Military Folder? Short Military Folder? Small Military Folder? Hell it may be Serious Mutha-Fer for all we know.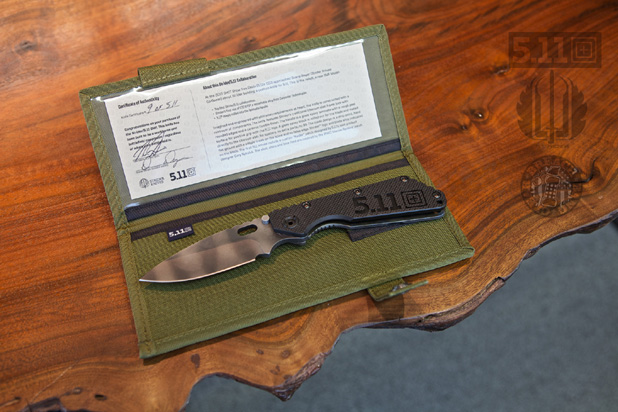 Here's a look at Davin testing his out on the ole face kevlar.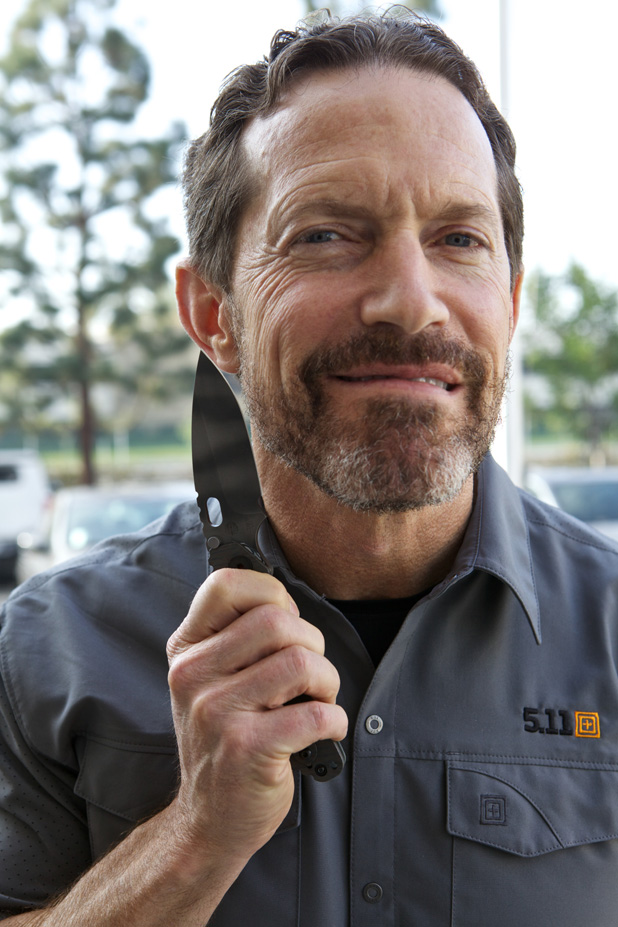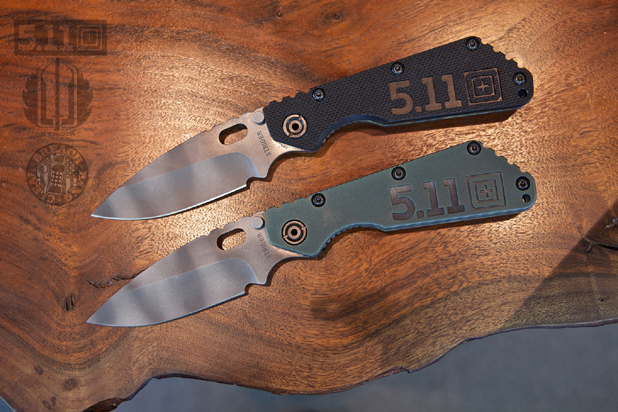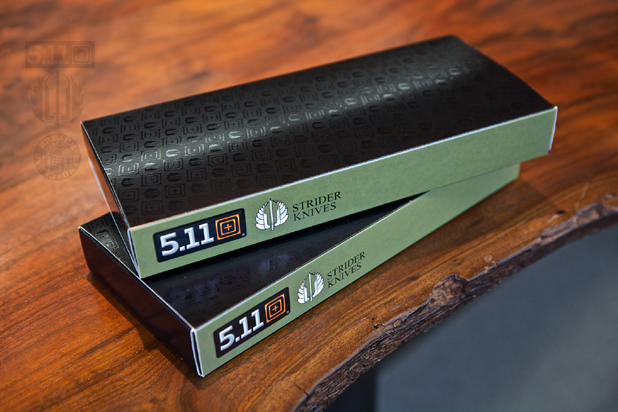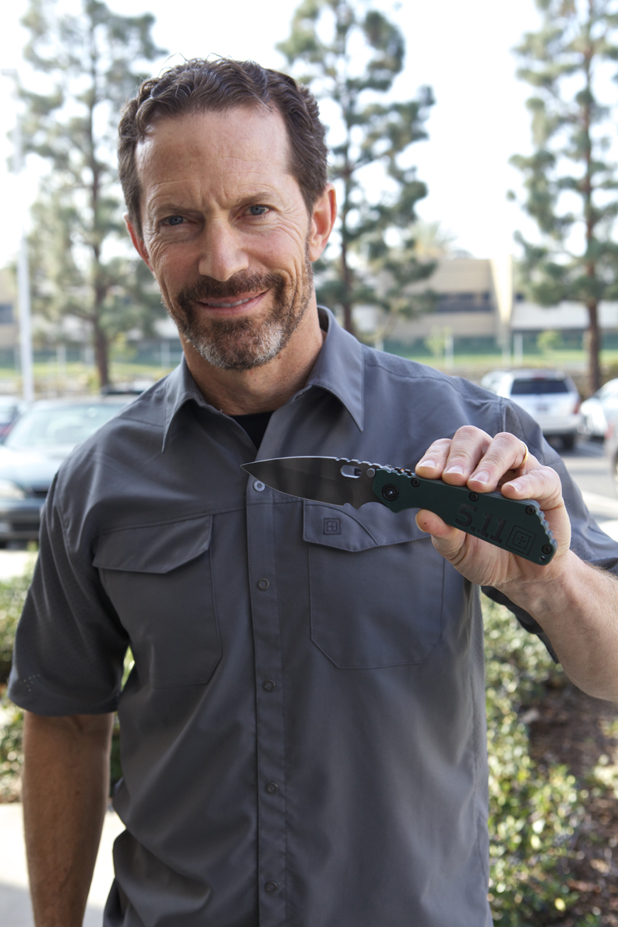 More to follow from SHOT and after.
Mad Duo, Breach-Bang-CLEAR!