5.11 in 2017 – Things That Make Me Happy
5.11 in 2017, Things That Make Me Happy
Jeremy the War Gawd
As cool as it is, SHOT Show can be a cruel bitch. So much to see and so many false promises about when the awesomeness will hit the streets. I've been bitten before, so now I wait a little bit to give the freshness time to migrate out to the readers, not just Tactical Illuminati like David Reeder.
The 5.11 booth at SHOT is like the treasure cave in Goonies. There's so much cool shit it's hard to process. So what I'll do here is just give you a little PSA on what to look out for. Or more honestly, the things I was interested in. The Mad Duo doesn't pay me by the word, so let's get on it, shall we?
First thing I want to talk about are the Defender Flex Jeans and Pants. These are cool as hell. Imagine the Chuck Norris Action Jeans from the 1980s that don't look ridiculous. Just looking at these things, I wanted to roundhouse kick a revolver out of some fool's hand. They are basically a traditionally styled five-pocket jean made out of a slightly stretchy cotton/poly mechanical stretch denim. But being 5.11, there are bonuses for the armed or prepared wearer. Two hidden magazine pockets at the rear and an extra-deep coin pocket make secreting your EDC loadout a little easier while still allowing you to maintain a low profile.
The Defender Flex Pants maintain the same styling as the jeans, but are made out of a slightly stretchy Calvary Twill material instead of denim. The jeans are available in a slightly worn or dark indigo finish and the pants are available in multiple colors like tan, green, and super ninja tactical gray. Both versions will be available in slim and straight cuts. I'm waiting for the straight versions to hit the street, but the slim fit are already out in the wild. These look like good kit, and snark aside, I'm looking forward to trying them out.
Up next is a little something for the ladies! No, I'm not talking about the naked pictures the Mad Duo left all over the B.E. Meyers booth at SHOT, I'm talking about the Wyldcat Pants! Women's tactical pants have always suffered from basically being modified men's pants. But with the Wyldcat, 5.11 designed a pant from the ground up for a woman, which makes them awesome.
First they started with a whole new fabric, a brushed sateen that is both soft and durable. Sometimes, pants that focus on "feel" have the unintended side effect of holding on to dirt; not so with the Wyldcat. Dirt just brushes off of it. There are plenty of pockets, including two "slash" type pockets on the front and two low-profile magazine pockets in the rear. I often get asked why low profile pants include these types of pockets, and whenever I do, I know that person has never trained to retain a magazine in their life. Pro tip: putting semi-expended magazines in standard pockets when trying to move sucks.
The knees are reinforced so that kneeling positions (on the range!) don't wear the pants out. The cut is snug but without compression, and the elasticity of the material keeps the pants from wrinkling and sagging. Lastly, and very importantly according to the well-armed women I talked to at the booth, the pants have a zippered leg opening, allowing them to be worn both inside and outside a pair of boots or simply to be seen as tapered or straight legged. While this might not be important to guys, "Hey! These pants aren't for you!" (Unless you roll like that, we don't judge.) Available in multiple colors like basic black, khaki, and grenade, these should be hitting the market just as you read this.
Last, I want to talk about some cool workout gear 5.11 has really refined this year. Their relationship with CrossFit and especially the "Murph" memorial day workout every year is well documented, but goes beyond a convenient marketing partnership. 5.11 really believes in the fitness lifestyle and even has a fully equipped CrossFit "box" (that's a CrossFit gym to the uninitiated) in their Irvine, CA headquarters. While CrossFit has a marketing deal in place with a big name civilian athletic apparel company, 5.11 has snuck in and punched them right in the mouth with some of the best stuff available, regardless of price.
I've used the Recon trainer, a CrossFit-inspired workout shoe, at least three times a week, usually times five times a week, for a year and they still look great. These trainers wear like iron. For 2017, 5.11 made small cosmetic improvements as well as increased the size of the "rope ready" instep. Small improvements, but really, there wasn't much to improve. The toe is a little boxy and the sole is fairly flat, but these are purpose built into the design to give the wearer a more neutral and stable position while lifting. I want to order a new pair, but my old pair is still great, so I'm holding off.
I also wanted to mention their Utility PT shorts. Workout shorts these days have an alarming trend of creeping up the thigh and are starting to look more like 1970's throwbacks than actual PT shorts. I've been out for a while now, I don't live that silkie lifestyle anymore! The Utility PT short is right at the knee, has useable pockets, a gusseted crotch so you don't hug the twig and berries, and are treated to be non-stink and moisture wicking, which is nice when you work out more than once a month. They are also very reasonably priced.
Look, I could write a damn novel about all the cool stuff 5.11 is producing right now, but don't take my word for it. Go to 511tactical.com or find the nearest 5.11 retailer and check them out. They've put in a lot of work in design and execution, and it shows.
-Jeremy the War Gawd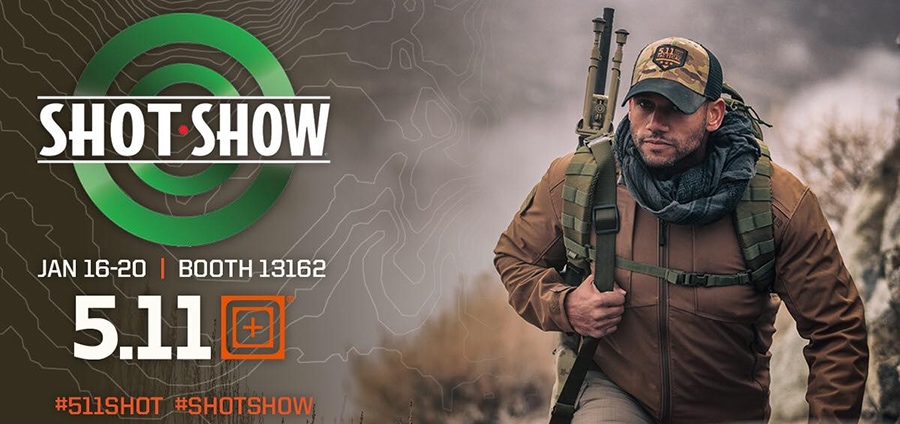 ---
---
If you wish to share or repost, please so kind as to follow our terms and conditions.
Mad Duo, Breach-Bang& CLEAR!
Comms Plan
Primary: Subscribe to the Breach-Bang-Clear newsletter here; you can also support us on Patreon and find us on Pinterest.
Alternate: Join us on Facebook here or check us out on Instagram here.
Contingency: Exercise your inner perv with us on Tumblr here, follow us on Twitter here or connect on Google + here.
Emergency: Activate firefly, deploy green (or brown) star cluster, get your wank sock out of your ruck and stand by 'til we come get you.
T&C: All original material published by Breach-Bang-Clear is the copywritten property of Breach-Bang-Clear, Inc. If you wish to repost, republish, or otherwise share our content, feel free to reproduce an extract of up to 225 words and one complete, unaltered image, preceded by attribution crediting the source and author's name, to include a link to the Breach-Bang-Clear home page, with a link back to the full article on our website, BreachBangClear.com. You do not require our permission to do this. Please do not reproduce our content in its entirety without contacting us first. We do allow full syndication on a case by case basis (credited, and posted with a canonical link, as is common practice and in good form) but only when mutually agreed upon beforehand. If you wish to reproduce a complete article, please contact us for permission to publish first.
About the Author: Jeremy Stafford is a truculent old school LEO and a combat veteran of the Marine Corps. He has just one beady eye (the right), a single shriveled testicle (the left) and is rumored to be the adopted son of Burt and Heather Gummer. (Grunts: truculent). Probably only part of that's true, but really does it matter? Jeremy has been serving with the Los Angeles Police Department for nearly 20 years, both on the road and in specialty assignments. He is currently a senior instructor at the LAPD Firearms and Tactics Division, is a Krav Maga instructor and probably the guy responsible for those few times you see some Hollywood type actually handling a gun correctly. He's written for several publications like SureFire's Combat Tactics Magazine and is one of the main reasons we started reading Guns & Ammo again (the other is Mudge.) Stafford teaches for the SureFire Institute, mentors local youth (including kids doing the Spartan Race) and he runs many courses himself (think marathons, Tough Mudders and assorted other needless exercises in self-flagellation). Follow him on Instagram here (@jestafford).