300 BLK Suppressed Mk48 – You Know You Want One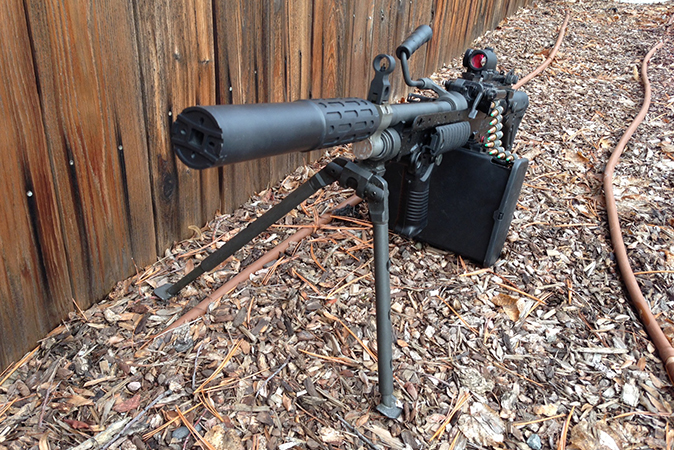 You read that right. Gem-Tech, the Idaho-based silencer company, has built a suppressed 300 BLK "Urban Machine Gun" (UMG).
It's belt-fed based on the Mk48 with a completely suppressed quick change barrel assembly. It's been optimized to run on Gem-Tech's proprietary 300BLK supersonic ammunition. The UMG, which has an integrated 300BLK titanium MG suppressor permanently affixed to the barrel, is unfortunately LE and military only. That ammunition, by the way, includes the supersonic 125gr Nosler 300BLK, the 147gr FMJ 300BLK ("for training") and the Sierra Match King 220gr Hollow Point Boat Tail 300BLK for ballistic performance and BEOBG (Better Effect On Bad Guy).

Is it practical? Is it suitable for the average logistics 'tail'? We have no idea, nor do we care. We want one, because Reasons – though the discussion about 'practicality and field use' the announcement started amongst our minions was interesting to say the least.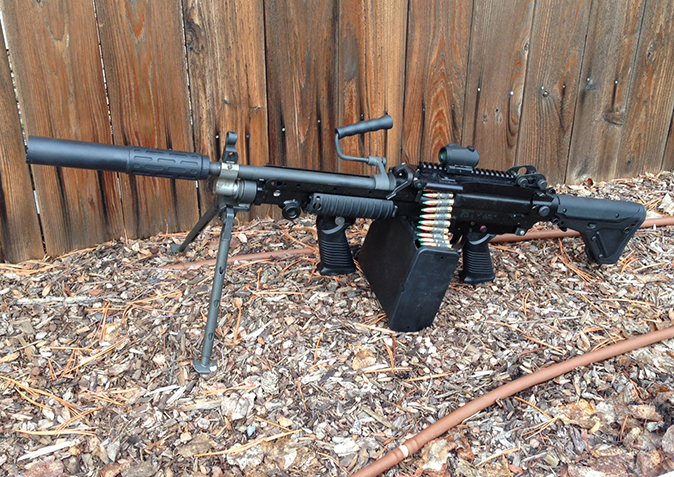 How do you see it potentially used? Feel free to speculate on everything from SOF missions in the Horn of Africa to SyFy Channel movies.
Check out the video:
You can learn more about online at www.GEM-TECH.com; follow 'em on Facebook via their official page www.Facebook.com/gemtechsilencer. Follow 'em on Instagram, #gemtechsilencer (http://instagram.com/GemtechSilencer) or on Twitter @GEMTECHSilencer (https://twitter.com/GemtechSilencer). If you're really wanting to talk to someone, call them at 208-939.7222 and tell them you found their number on the wall at Nancy's Squat 'n' Gobble.
Here's something to think about if you spend more than a couple hundred bucks a year on guns, parts, and ammo: