3 Gun Match Raffle: Superstition Mountain

The next Superstition Mountain 3-Gun Match is set to be a good one, and to get you in the mood for it they've gone damn near full Oprah (tv show giveaway Oprah, not desperate post-show commercial Oprah). They're giving away a full lineup of shootin' irons. Read on to learn how you might just get one of three different blasters. Mad Duo
3 Gun Match Raffle: Superstition Mountain
Richard "Swingin' Dick" Kilgore and Jake "Slim" Call
Here's what they tell us about it.
Founded in 1996 and now in its 22nd year, the annual Superstition Mountain Mystery 3 Gun (SMM3G) ranks as one of the longest running and most prestigious 3-Gun matches in the USA. As one of the first "Outlaw Matches", SMM3G helped blaze the trail and develop what modern 3 gun has become today. Held at the Rio Salado Sportsman's Club in Mesa, Arizona, SMM3G offers a unique blend of shooting challenges using rifle, shotgun and pistol encompassing close-in, ultra-fast paper targets and flying shotgun clays to precision rifle shots up to 500 yards. Combined with imaginative props and stage designs and a Prize Table that's one of the biggest in the country, it's little wonder why SMM3G ranks so highly on many 3 gunner's "must do" lists and is a sell out year after year.
One of the traditions of SMM3G is its annual raffle. Proceeds from the raffle are used to help fund the match for the following year to enable the purchase of items such as paper and steel targets, tape and clays through to the building of new props for the various stages.

As a non-profit organization, every dollar earned by SMM3G through the generosity of sponsors, match fees and proceeds from the raffle goes back to our shooters, whether it be items for the prize table, construction of new props or purchase of targets, tape and clays. SMM3G is truly a match by shooters for shooters.
For 2017, KE Arms is proud to supply the raffle guns for SMM3G. This year we are taking the raffle to the national level by offering tickets available for purchase on the KE Arms Website:
About KE ARMS in their own words:
KE Arms is a manufacturer specializing in products for the firearms industry. These product areas include complete firearms and components for AR15 and AR10 rifles, shotguns, pistols, and roller lock firearms. Our emphasis in manufacturing is robust quality and a dedication to the advancement of firearms technology and usability. Our team combines 25+ years of tier-one manufacturing experience in the automotive, aerospace and semi-conductor industries, along with modern combat in both Iraq and Afghanistan and law enforcement applications. Our competition shooting team actively participates in our cycle of research and development. This unique combination allows us to produce firearms and accessories with the most advanced tools and techniques in the industry that are specifically designed for real-world applications. Our products are all made in America by Americans.
---
Mad Duo, Breach-Bang& CLEAR!
Comms Plan
Primary: Subscribe to our newsletter here, get the RSS feed and support us on Patreon right here.
Alternate: Join us on Facebook here or check us out on Instagram here.
Contingency: Exercise your inner perv with us on Tumblr here, follow us on Twitter here or connect on Google + here.
Emergency: Activate firefly, deploy green (or brown) star cluster, get your wank sock out of your ruck and stand by 'til we come get you.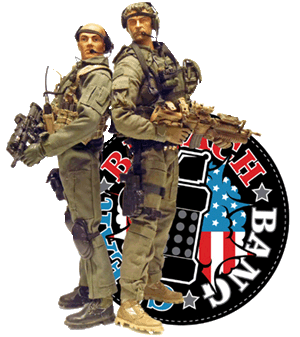 ---
---