Many people are unaware that before Stephen Pineau became a competitive shooter and a truly superb firearms instructor he was a professional figure skater and "ambiguous" Lead Escort at a place called the Precious Peanut in Dallas. Though particularly beloved in San Antonio, Austin, San Francisco and (strangely) the greater Elyria-Ridgeville area of Ohio, Pineau left a burgeoning career as a paid companion of indiscriminate sexual preference to pursue the mastery of the gun.
It was a wise decision he has never regretted – but he never forgot his roots.
Over the last year or so ammunition supplies have all but dried up – we don't have to tell you that, if you're reading this. Pineau, a staunch advocate of the Second Amendment and never one to fail a friend, determined to help make ammunition available for those who need it.
How'd he do it? Simple. The same way crack whores get their dope – he exchanged "services" for it. As a result of those services he has established the 21st Century Gunfighter Store. We shop there, and we suggest you do too.
Here's a picture of Stephen's car after a successful (if sticky) few hours working the Harry Hines Blvd and Joe's Creek area of Dallas, TX.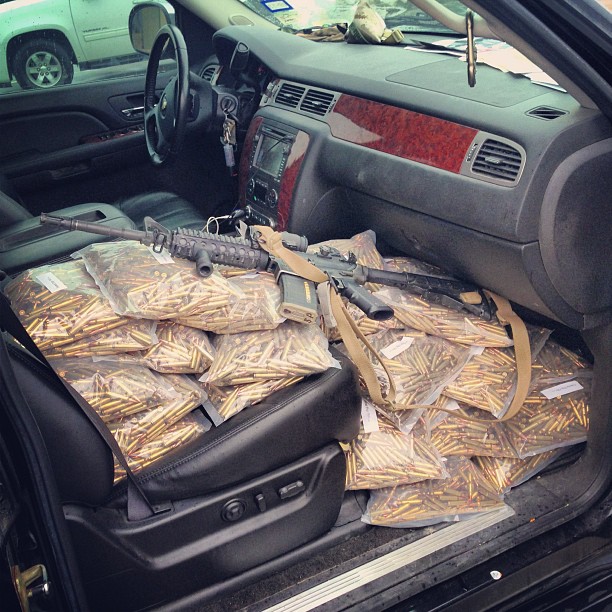 You can buy other things at the 21ST Century Gunfighter Store, obviously. T-shirst, the M&P Catalyst Extended Mag Release, hats, patches, ben-wah balls, you name it. Pretty much anything a gunfighter (or ambiguous escort) could need. Here's the store URL again: http://21cg.us/shop/. Bullets make us happy. Bullets should make YOU happy. Bullets certainly make Stephen happy. Look how happy bullets make Stephen.
You can follow 21st Century Gunfighter on Facebook here. Stephen occasionally comes up with some surprisingly erudite commentary – remember this article he wrote for us about the Zimmerman trial?
Grunts: erudite.
If you're looking to do some training (especially if you're in driving distance of Dallas, though he trains all over the place), check out M3 Strategies (on Facebook here). You'll get some quality range time and some excellent guidance – just don't get him started on war stories from the days of the Precious Peanut.
When Stephen Pineau isn't waxing nostalgic for the days he shaved his legs and rocked rhinestones out on the ice, he is delivering top notch instruction as the Lead Instructor of M3 Strategies, a training and consulting company based out of Dallas/Ft. Worth, Texas. He has trained individuals from the Military and Law Enforcement community along with numerous responsible armed citizens in the technical use of firearms for defensive applications. He has actively contributed to product development, media and promotional efforts for a multitude of reputable companies within the firearms industry – which won't keep us from making fun of him.
He really is dreamy though, ain't he?
That's it for now. You guys get hydrated for the weekend. Don't do anything you'd lose a stripe for (unless it's EPIC and you can get it ON VIDEO).
Mad Duo, Breach-Bang-CLEAR!