At Least 2 Terror Attacks Confirmed in London (NSFW/violent imagery)

At Least 2 Terror Attacks Confirmed in London
Multiple sources are reporting the response of armed law personnel, counter-terrorism units and emergency crews to one or more incidents, now confirmed as attacks (likely coordinated), at the London Bridge and the nearby Borough Market area. A stabbing at the Vauxhall area was later determined to be an unrelated criminal act.
The attack(s) comes just hours after an attack in Manila left 34 people dead (claimed by the Islamic State, though it was likely a failed robbery attempt) and less than a week before England's June 8 election. Just two weeks ago a suicide bomber explosion in Manchester killed 22 people.
According to British Transport Police, and the British Broadcasting Corporation, there are multiple casualties. Witnesses have described a van leaving the roadway and running over pedestrians, with others reporting one or more knife attacks. At least one woman told Reuters she's seen people who had "had their throats cut," but Reuters was unable to confirm. Other witnesses have reported gunshots in the area. The London Ambulance Service has advised they're responding to those scenes.
Note: NSFW and Potentially Disturbing Imagery Below
SkyNews on Facebook Live: they're broadcasting here.
EDIT: As of 19h52EST London Metro Police are advising the stabbing at Vauxhall is not related to the other incidents; those other incidents, however, have been classified as terror attacks.

EDIT: As of approximately 00h35 Zulu (20h35EST), social media users (primarily Periscope) were reporting "2-3 explosions" in the London Bridge area. These have been described as controlled detonations by the BBC.

EDIT: The London Ambulance Service is reporting they've transported at least 20 patients to six different hospitals.
Edit: This is being reported as a picture of the vehicle used in the first attack.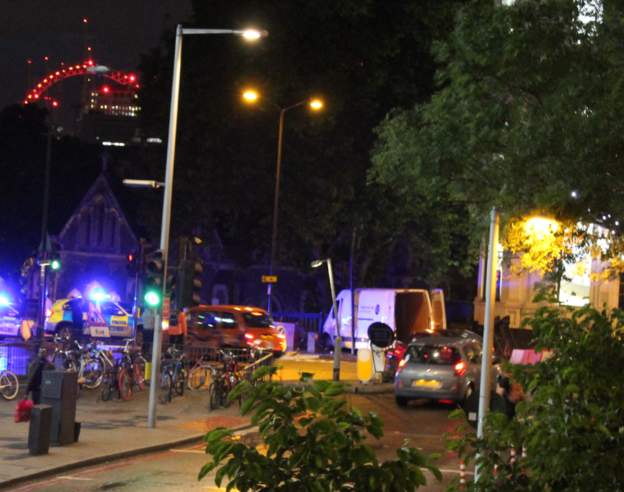 You can watch the Reuters live stream right here, though coverage has been intermittent as of this writing.
The BBC is updating its coverage consistently here online.
You can listen to the London fire service online here, although there does not appear to be an active way to scan the Metro Police, at least that we can find (which is actually probably a Good Thing). They are, however, updating the public via Twitter quite frequently, @metpoliceuk. Note that the Metro Police are not the same agency as the City of London Police, although they have jurisdiction at these scenes. The City of London Police can be followed here. The British Transport Police feed is here.
Numerous videos from the scene, like the one below, have begun to appear on social media.
https://www.youtube.com/watch?v=nb15SXeoT8I
Most responses have been what you expect (don't be a bigot!). But some of them are unexpectedly refreshing.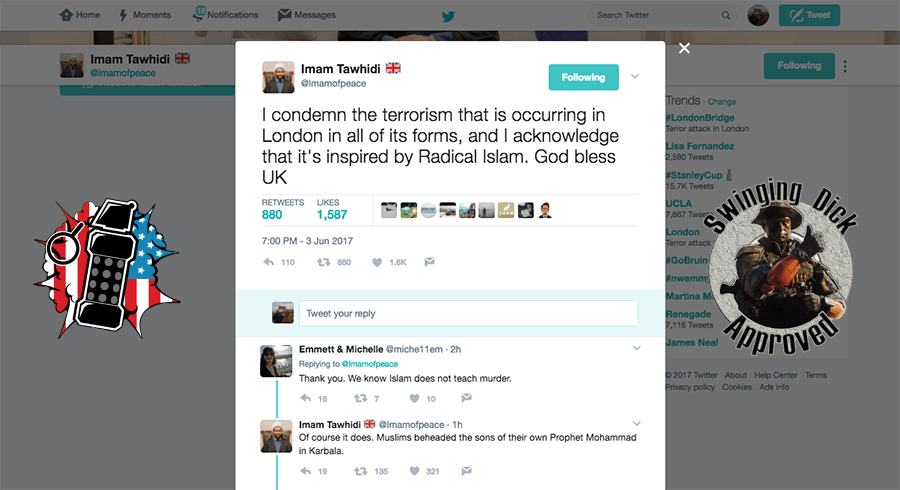 The Mayor of London's initial statement can be read here on his Facebook page, although there's nothing substantive to it (it's the mandatory "I condemn this" statement all chief executives have to make).