Fight Like a Girl: Melissa On Ashbury Custom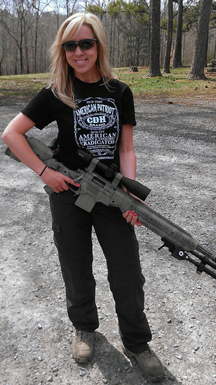 Most of our minions are patriotic (if dimwitted) knuckledraggers. Some of them are a little smarter than others, and a very select few smell far better than the rest. Melissa "Mad Duo Missy" Gilliland is one of the latter. She's smart, hawt, loves to shoot, supports assorted military charities (especially American Snipers) and - most important of all - she is a stalwart member of the Mad Duo team. Melissa is a burgeoning (grunts: burgeoning) competitive shooter who just completed an NRA pistol instructor course. We're confident she will soon be able to outshoot our boy James!
Rifle Review: Ashbury Custom M700 .308 Tactical, SABER® MOD-1 Modular Rifle Chassis
Melissa "Mad Duo Missy" Gilliland
I attended the 2013 SHOT Show this past January to help raise money for Americansnipers.org by signing and selling Tactical Girl Calendars, which proudly I have been a part of the last few years. I love attending the SHOT Show, meeting new people and of course, raising money to help our snipers overseas.
What I thought was going to be another great year at SHOT turned out to be a "phenomenal" year at SHOT. Why you ask? Let me start off by saying that I had just started shooting competitively in tactical long gun matches with my husband, who you all know by now is Jim Gilliland, a record holding military sniper. I had become friends over Facebook with Regina Milkovich who happens to be an extraordinary female long gun competitor in the Precision Rifle Series matches. Regina approached me at SHOT and advised me that Ashbury Precision Ordnance (APO) was looking into sponsoring a female long gun competitor. (Ashbury Precision Ordnance is based out of Charlottesville, VA and all their rifles are proudly made in the USA!)
Not one to miss an opportunity, I mustered up the courage and walked over to their booth and met the Ashbury team. Now keep in mind I am new, and an up and coming female practical long gun competitor. With this in mind, I did not think they would give me the time of day. Boy was I wrong, not only did they take me under their wing, they have supplied me with one of the best competitive rifles there is out there. Not only does this rifle perform, but the features on it far outweigh the other competitors (literally). Other competition rifles I have shot are 16lbs optics and all. The wonderful gunsmiths over at Ashbury (all experienced former USMC 2112's) have built me a test rifle that is around 12 lbs.
On a small body frame like mine, those 4-5 lbs really do make a difference. APO's product development team sent me a custom APO 308 Tactical Rifle built on a Rem M700 short action in a SABER MOD-1 chassis and a 10 rd detachable magazine. I instantly fell in love with this rifle, even though I knew this was just for "testing". I was eager to try this bad boy. What did I think of it?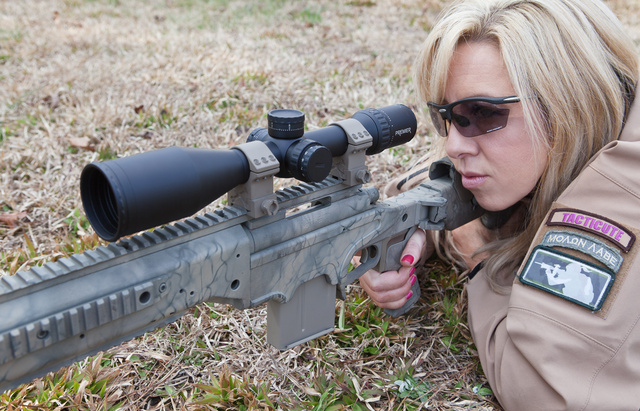 This APO custom rifle began its life as a M40E concept build, using a "trued/blueprinted" Remington M700 short action with a Pinnacle Series 20" fluted stainless steel match barrel in a SABER MOD-1 chassis Carbon Fiber series forend with a 20MOA monolithic rail. Today, its available in production from APO as the ASW308 built on a specially engineered bolt action receiver with a 2-stage tactical trigger and AAC Blackout muzzle break. How accurate you ask? All APO custom rifles shoot groups 1/2MOA or better and come with an actual 5 round group test target!
First, the weight of the rifle is excellent and this alone really makes me excited to compete with it. I believe as a female, it helps make the "playing field" a tad more even at the tactical shooting matches. This particular SABER® chassis has accessory rails attached which I did not remove. I plan to remove them since they are not needed and are just adding extra weight. The trigger was set for 3.5 lbs. It was a little heavier than I expected, as I am use to a 2.5 lb trigger. Ashbury assured me that this would not be a problem and they would adjust the trigger to my liking. Sweet!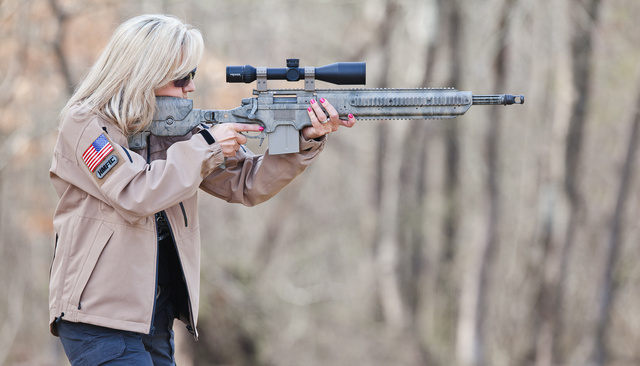 Have I mentioned the folding push button adjustable shoulder stock? I LOVED being able to adjust the shoulder stock to quickly fit me without any tools! That is a huge plus when I am shooting from different positions. I did notice more felt recoil from this .308Win as opposed to the .260Rem I shot in my last match. But I understand that there are tradeoffs when optimizing a rifle for caliber, weight, barrel length and performance. It was not unmanageable by any means, I could just tell a difference between shooting this rifle and the .260 that I shot in my last match.
This rifle also comes with three different hand grips angles, which is a huge plus in my book. By being able to adjust the angle of the grip and distance from the trigger, you can actually "re-size" the chassis to fit your trigger finger. I am still playing around with this feature to get a comfortable primary grip and the my exact trigger finger placement position set. Nevertheless, this was another aspect of this rifle that I LOVE.
The Premier Reticles Light Tactical 3-15x50 scope I found was the most trying part of the rifle. I think its non-Melissa friendly, LOL. I loved that it was MIL-MIL (reticle and adjustments), however I felt like it was a little difficult to get the crosshairs perfectly aligned each time I shot. Initially, I was coming off the rifle after each shot, but once I realized what was happening my groups tightened up, but still had a couple of fliers. As with any other new hardware, I think maybe it's just me getting use to it.
I did have some issues with the rifle not extracting and noticed I had to be aggressive with the bolt. After that, it was fine. When I got home, I installed a KRG 2 piece bolt knob on the bolt to make the handle bigger and more "Melissa" friendly. Having smaller hands, this add-on really helped me to better manipulate the bolt.
The best group I shot was 3/4 MOA with most groups right at 1 MOA. I do believe that it is a .5 MOA rifle as one 10 round group had 7 rounds, at or less than 1/2 minute with 3 fliers opening it up. To tell you what my hubby told me "I do believe it is a shooter scope interface issue." I was firing RUAG SWISS-P Target 168gr .308 which APO assured me is incredibly consistent match grade ammo.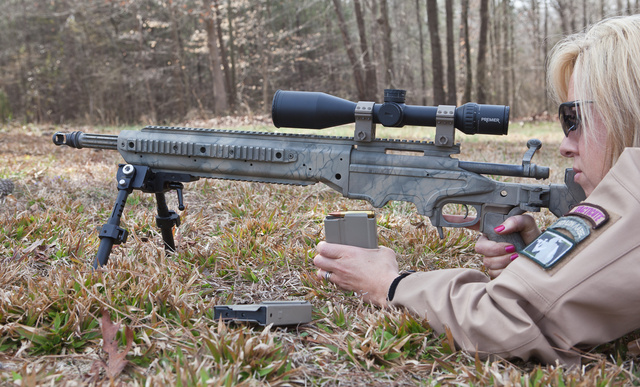 This Ashbury Custom M700 Tactical Rifle and the SABER® chassis product line are extremely female friendly. I am excited that Ashbury Precision Ordnance has taken serious interest in working with women practical rifle shooters. I would not hesitate competing with this rifle, match after match. Like I said before, I feel ergonomically adjustable lightweight precision tactical rifles like those built on SABER® chassis help females compete on a more "even" playing field with the men at practical/tactical shooting events. After the refinements are made by APO for a tactical competition rifle to specifically fit me, my last words are "Look out boys, the females and Ashbury Precision Ordnance are here to play!" I can't wait to show you my new custom APO SuperSport rifle now in the works! It will be hot. See you on the range!
Images courtesy of Melissa Gilliland and Oleg Volk.
About the Author: An Alabama girl now living near Ft. Benning GA, Melissa Gilliland once had to pick three songs for her life. One to fight to, one to dance to one done to relax to—She chose Bodies by Drowning Pool, You shook me all night long by AC/DC and Sweet Home Alabama by Lynard Skynard. The symbolism of all three lies on several levels. Melissa is a study in contrasts. She is a professional model who can run faster in stiletto heels than most women can barefoot, and a lady—a genuine Southern Belle—who can skin and gut a hog. In fact, Georgia deer tremble in fear at the sound of her name. A staunch defender of the Second Amendment and proud supporter of American Snipers, Melissa is married to MSG Jim Gilliland, a former Ranger instructor and record-holding Army sniper. She actually began going to the range to spend more time with Jim and has recently begun to compete professionally. She started on a .308 that she had custom built but has recently switched to a .260. Though she still enjoys rifle competition as a way to spend time with Jim, the challenge of it and the compelling challenges of true marksmanship now keep her truly focused. A mother of four, she prefers Captain America to Batman, is a loyal fan of Action Figure Therapy and Breach-Bang-Clear. She's a cradle robber and proud of it (her husband, whom she attended high school with, is a couple of years younger than she is). She is a co-founder of Shadow-6 Consulting and works in the office at MWR on Ft. Benning and although she formerly owned and operated a successful real estate brokerage she has no desire to return to that sort of work. This is something one might expect from a woman whose three favorite accessories are a Randall Model I fixed blade, 139-grain Lapua Scenar and MAC Spirit lipstick.
Mad Duo, Breach-Bang-CLEAR!