Tactical Tourist – KC Knuckleheads Saloon
Knuckleheads Saloon, in the East Bottoms area of Kansas City, MO — we'll tell you why you should visit, and what to be aware of if lead starts to fly while you're there. Breach-Bang-Clear

The Tactical Tourist – KC Knuckleheads Saloon
Stephanie Kimmell
If listening to live music is one of your delights, you should stop in at Knuckleheads Saloon next time you're in Kansas city. Rated #1 by USA Today as Kansas City's Best Nightlife, the East Bottoms venue is uniquely located just an arm's length from a railroad complex. I've had the privilege of visiting Knuckledheads Saloon several times now, and each time I go I like the place better than before.
The first time I went there I got to listen to a Saturday afternoon Open Jam, performed by local blues musicians. Eleven musicians were on the stage that day, and I sat fascinated as I watched them working together to produce soulful music. It was thrilling to see the variety of instruments they incorporated into the performance. Brass instruments and a shoulder-yoked washboard blended their unique sounds with the drums, bass, guitars, keyboard, and vocals.
Knuckleheads offers several kinds of shows to the Kansas City audience, but I found a particular joy in observing the Open Jam. It's as if that music is alive and should be savored as a gift because the sounds created during an open jam are free and spontaneous, and may never be experienced exactly the same again. The Open Jam Sessions hosts such artists as Tower of Power, JJ Grey, Leon Russell, and many others.
After I'd been to Knuckleheads a few times, I began to mentally absorb the lifetime of effort and love that has obviously been poured into the place. Everywhere you look, there are images and items that represent great musicians from past and present. The place reeks with nostalgia and a sense of connection between musicians and their audiences. I wanted to meet the owner and ask him how he built the venue.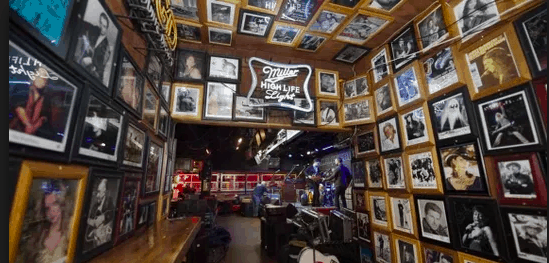 Frank Hicks is the owner of Knuckleheads Saloon. He bought the old railroad boarding house which had been built in the 1880s because it was across the street from his body shop, Mid-City Collision Repair. The body shop fixed school buses and tractor trailer rigs. Eventually he added a side business, F.O.G Cycles (which stood for F**cking Old Guys). He sold motorcycle parts because he wanted to get wholesale prices while he fixed up motorcycles on the side. That part of the business grew a little but Hicks had to acknowledge that the location of his business wasn't helping. The worn-down East Bottoms was too far removed from high-traffic commerce locations.
So Hicks came up with an ingenious plan to increase visibility and traffic to his motorcycle parts business. In an effort to get people to visit his shop, he started hosting local bands in the yard on a flatbed trailer, handing out free yard beer (under the radar).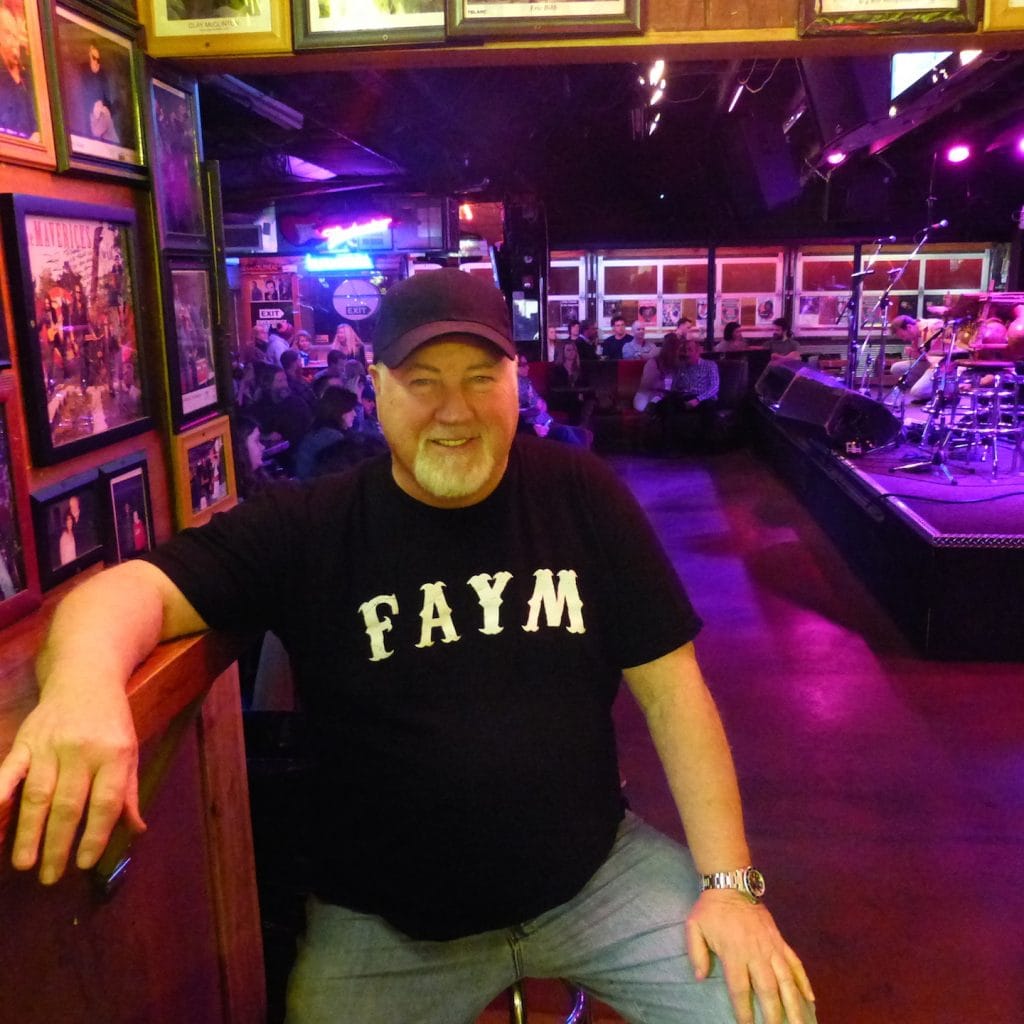 "People find you when you're handing out free beer."
He started with local bands a few nights a week and sometimes opened for traveling acts. As time went on, Hicks' plan for increased traffic was working so well he had to open more than just a couple nights a week. Word spread and the crowds swelled. The overhead equally grew and he began to charge $10 for the music, which included all the yard beer you could drink.
The flatbed trailer was eventually replaced with a caboose with one of the sides converted to a roll-up wall…and in 2001 he got a liquor license. As Frank was telling us about the caboose, he chuckled, remembering how the drummer would sometimes hit the ceiling of the caboose while he played.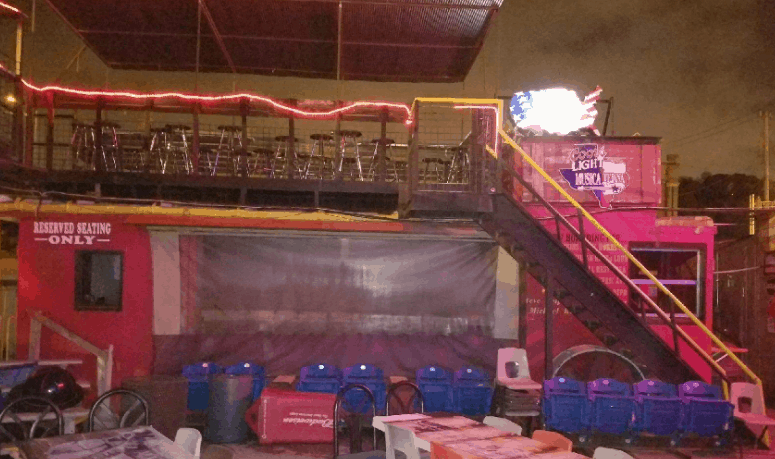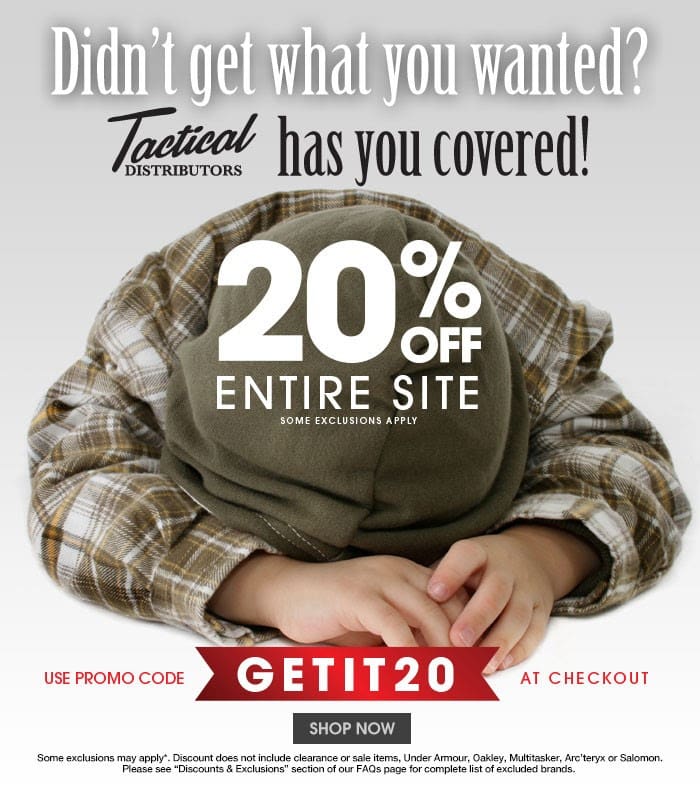 As the success of his live music venue increased, Hicks started booking musicians with regional and national reputations. By 2001 the old railroad boarding house had evolved into Knuckleheads Saloon, named in homage to the trio of three cycling friends who referred to themselves as the Three Stooges. In 2004 the Grand Emporium at 39th and Main closed, and the the acts that would would have performed there now came to Knuckleheads Saloon. Hicks closed down F.O.G Cycles because Knuckleheads had become the premier venue for the Kansas City Music Scene.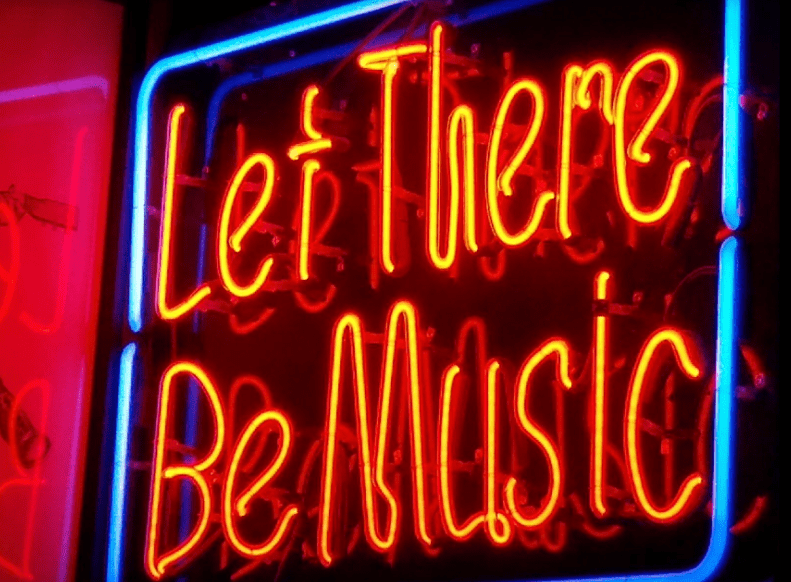 Over the next decade the saloon became increasingly inadequate for hosting larger concerts. By April of 2015, Hicks  converted the garage that previously housed Mid-City Collision Repair into Knuckleheads Garage. This expansion increased the venue by two additional stages so that the Knuckleheads Saloon enterprise now has six stages in all.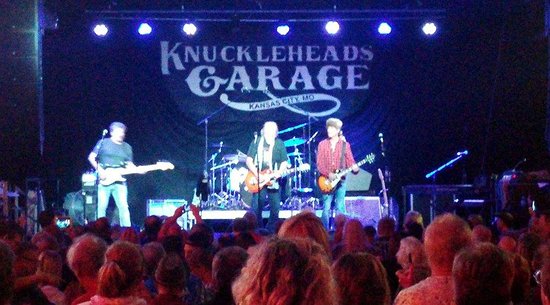 Among the six stages at Knuckleheads is the Gospel Lounge, which has approximately fifty seats and includes a wall completely devoted to Elvis Presley. According to Hicks, the Gospel Lounge is like the Bluebird Cafe of Kansas City. It's a small room with perfect acoustics, which hosts weekly Wednesday night Church Services. Carl Butler has been the Gospel Lounge pastor for the last nine years. When asked what he would do if somebody brought a beer to the service, he said "I'd give him a coaster."
The outdoor stage faces a two-story seating deck and is situated alongside a series of active railroad tracks. Sometimes while a show is in progress on the outdoor stage, a train will drive by tooting its horn. Audience members sitting in the two-story horseshoe shaped deck can wave to the conductors.
The interaction between the trains and the music makes for a unique experience. Its one of many little details that makes Knuckleheads one of Kansas City's cultural gems. Off to the side of the stage is a humorous sign: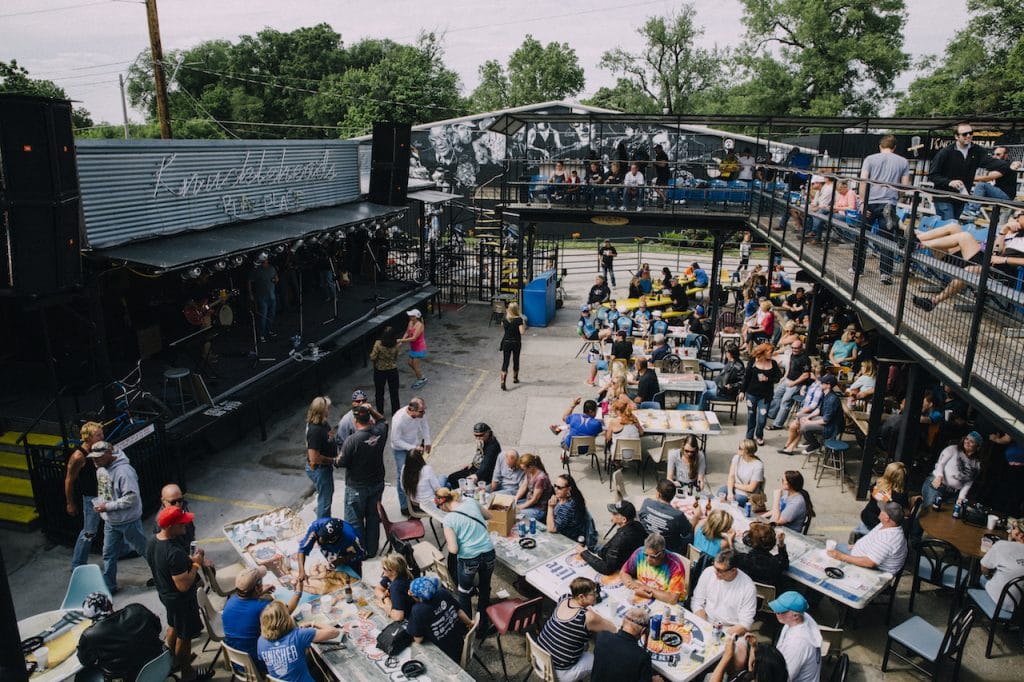 Once, singer-songwriter Joe Ely was performing his song Boxcar on the outdoor stage when a train came by, blowing its whistle at the right point in the song. Ely said he had "…waited 20 years for a train to come by at the perfect time."
The refreshments at Knuckleheads are reliable and tasty. Dollar tacos are one of their most enduring menu items, and the kitchen also offers sausages from Scimeca, which is a Kansas City Sausages company. The varieties of beer are so numerous, Frank doesn't even know how many different kinds there are. The price of beer is set at $3.50 a can.
Frank spoke with admiration about his staff. As we were talking, he smiled and nodded his head over at one of the bartenders. "That lady over there is an architect. She works here because she enjoys it, and she gets to listen to music while she works."
Visitors of Knuckleheads have the opportunity to visit the on-site gift shop to pick up a souvenir. The website also offers a T-shirt shop. There are plenty of designs and styles, but this is one of their best-sellers.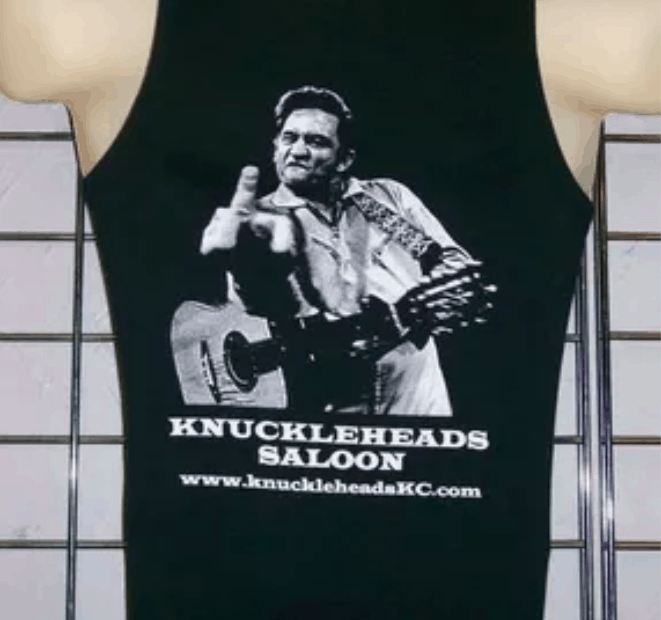 One of the coolest features at Knuckleheads is the Memorial Wall. It's a wall on the garage portion of the venue facing the saloon side. The huge surface was painted black, and rock, blues, and country musicians are painted in white. Some of the musicians memorialized are Elvis Presley, Stevie Ray Vaughan, Hank Williams Sr., Jimi Hendrix, John Lennon, and recently-added Tom Petty.  
Franchise offers have been made, but Frank has always refused.  "The way we grew this place was like 'Hey, those people are cold over there!' – so we put a heater in. We grew this place organically, and there is no way to reproduce it."
So next time you're in Kansas City, stop in at Knuckleheads Saloon and enjoy some great live music, good food, and ice cold beer. You won't find another place like it.
Problem Solving
Should the shooting start…
Awesome as it is, the whole damn place is a threat area. Approaches are wide open, there's very little cover, and the haphazard, quasi-dystopian layout of the place will put you in a vulnerable place most anywhere you go. This could be problematic should Clarence Boddicker show up mid-concert to kick up some sort of brouhaha. We recommend sitting on the Rochester Ave. side of the main structure, with your back to a wall…but if you're smart enough to be reading Breach-Bang-Clear, you already know that.
On the good side, if you have plan a hit on the place because Darwin, Jeeves and Lestor Trimmer decided to ruin the annual Bourbon & Bacon Festival with gunplay, the surrounding roads and train tracks should help you with containment. Just warn the cordon to keep an eye out for squirters headed for the Chestnut Traffickway.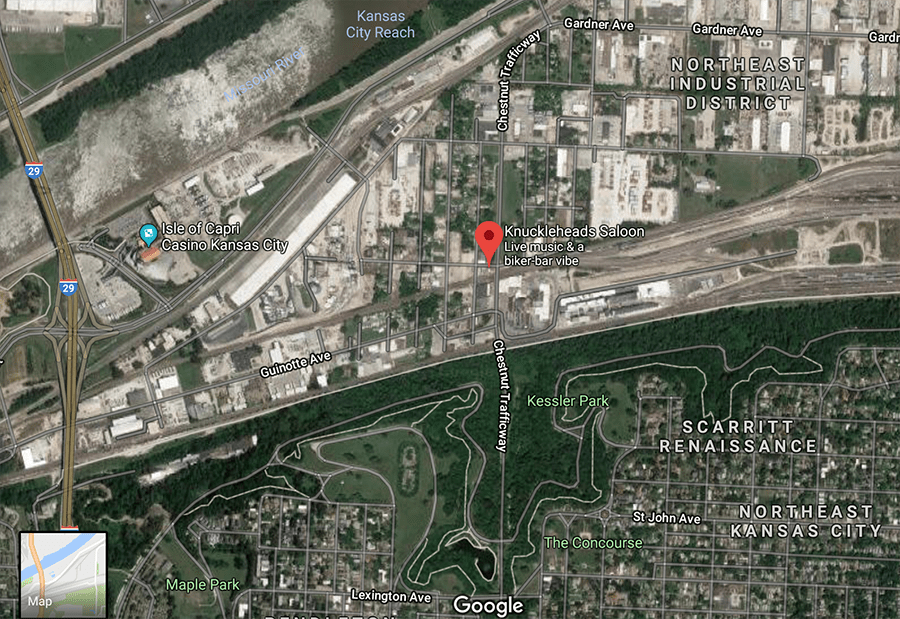 If you have to E & E, just remember there are several chain link fences and a lot of open ground between you and Kessler Park — and that the Missouri River isn't too far to the north.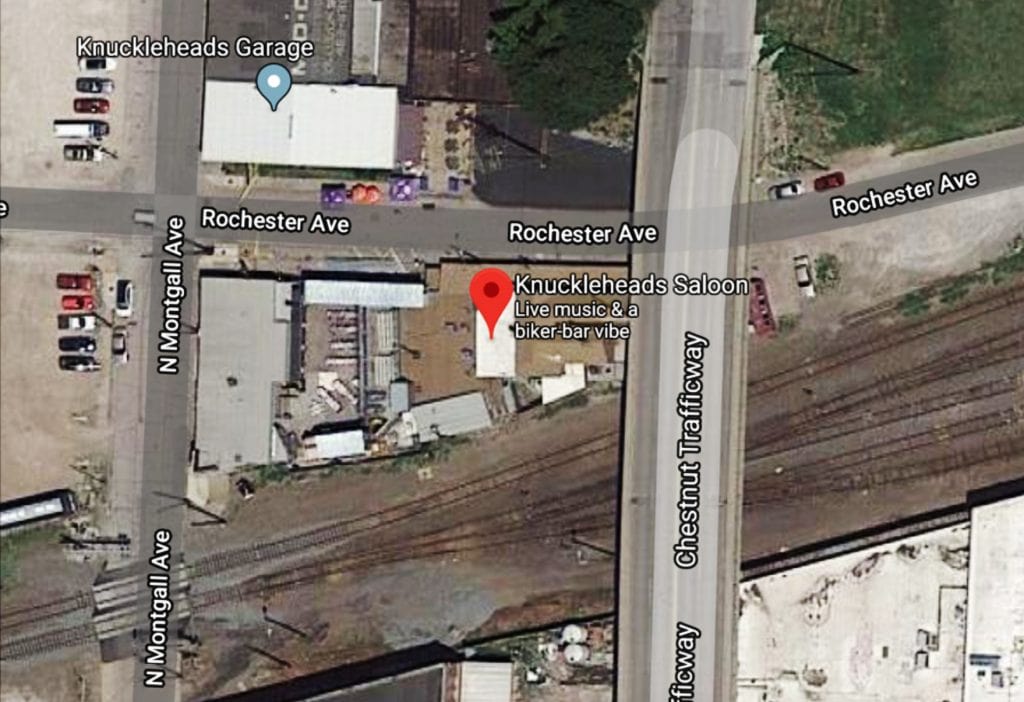 If you want to see what the place looks like and don't have the time for a proper recce, watch the video below. Remember – time spent in reconnaissance is seldom wasted.
Owner Frank Hicks put this together as a virtual tour of the place.
Find Knuckleheads online at https://knuckleheadskc.com. Follow 'em on Instagram, @knuckleheadskc, or subscribe to their YouTube Channel. On Twitter, @knuckleheadskc.
There are some interesting reviews (pretty damn funny, actually) about Knuckleheads on Yelp.
Know a place we should check out? Let us know!
Steph
If you wish to cite, syndicate, or curate our material, please be so kind as to read our Terms and Conditions.
---
Breach-Bang & CLEAR!