SHOT SHOW 2016: DANIEL DEFENSE
In today's SHOT Show report, Big Joe (the most ostrobogulous of our mollynogging minions) will bring you up to speed on current events in the world of Georgia based American AR (America's Rifle) company, Daniel Defense. It was a good day for young Joseph. He got the scoop on DD and he found the Batman v. Superman XXX porn parody won Best Special Effects. Read on. Mad Duo
Grunts: ostrobogulous.
Photography by SEEING RED's Taylor Lange and courtesy of Daniel Defense.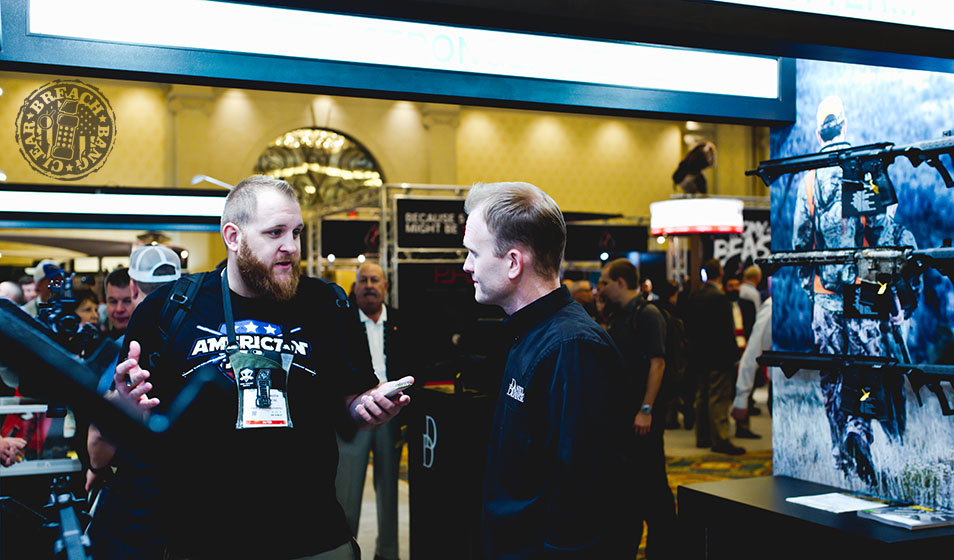 Dammit, we did it again, sorry. Grunts: Mollynogging.
So while we were on our way to the Public House pub to go online and get directions to the AVN Awards, we happened to catch sight of someone we thought was Kleio Valentien, so we followed her a while. Eventually we wound up at the Daniel Defense booth — which is where we realized it wasn't Kleio at all, but actually DD Marketing HMFIC Thomas Carlson (don't get all judgey — they look a lot alike from behind, especially in a hat).
Anyway, we stuck around a while and picked their brains 'cuz guns are just as awesome as boobs. The AVN Awards could wait. I don't really think that I need to touch on the great barrels Daniel Defense makes, but they do have some other new stuff that will interest many of you reading this.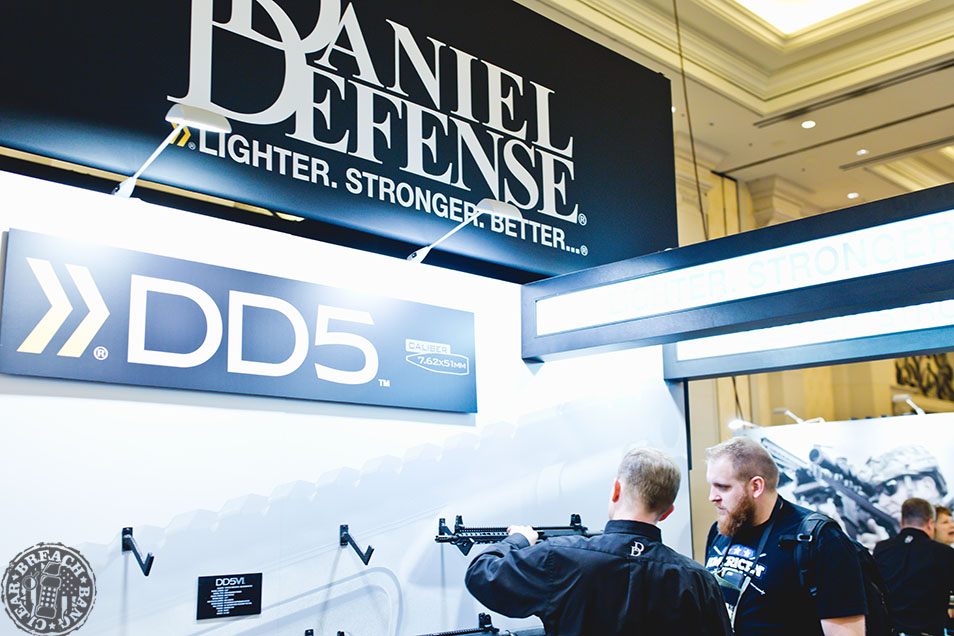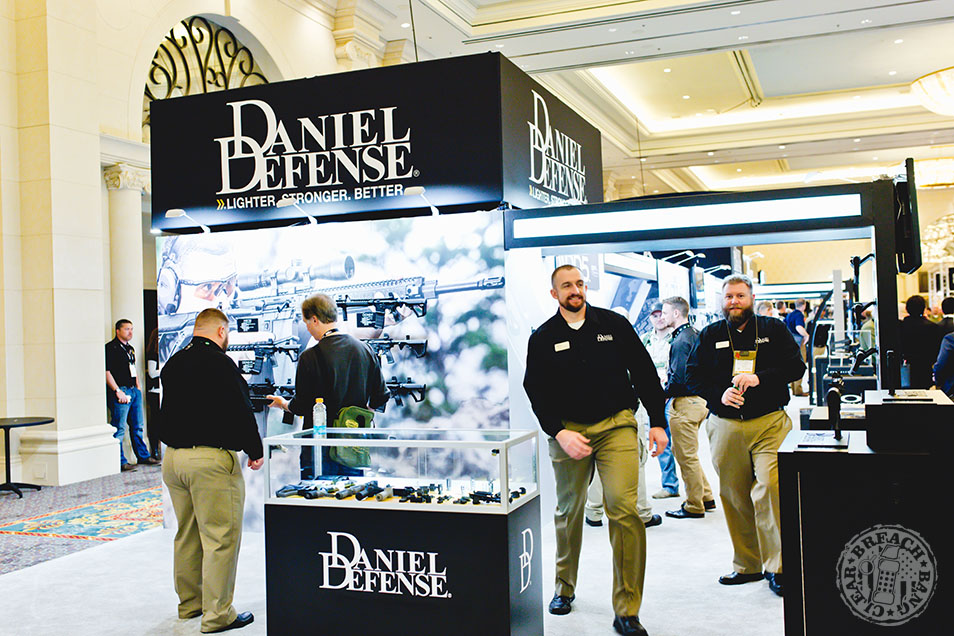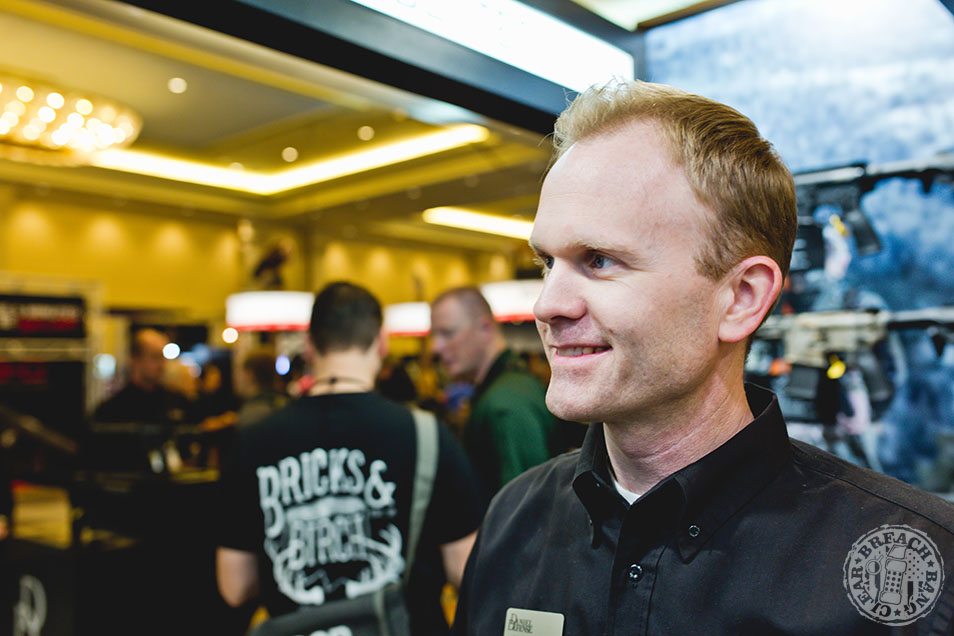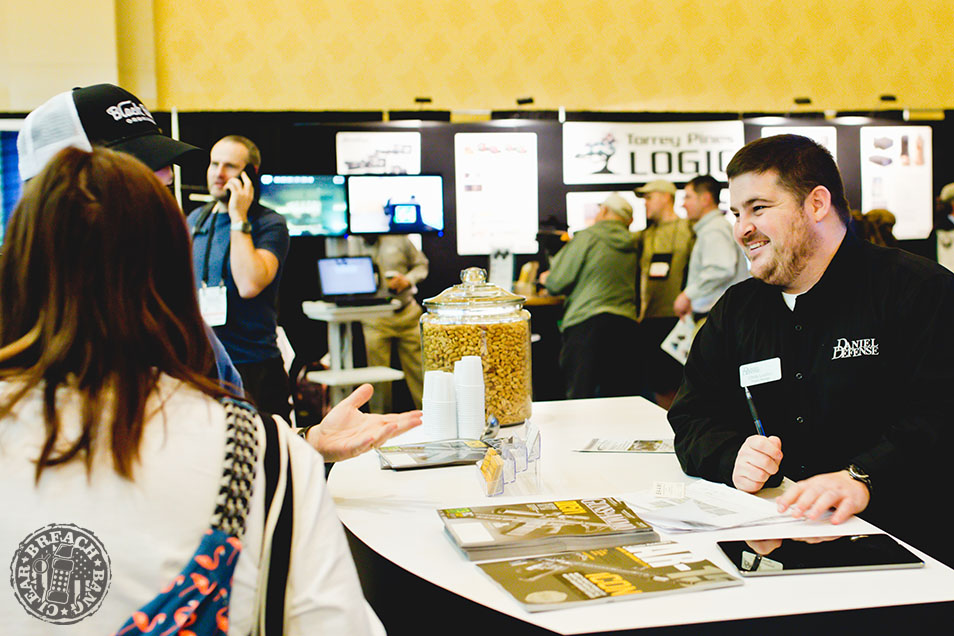 For instance, Daniel Defense now has M-LOK for their MFR XS rail. This is noteworthy because now you can buy a DD rifle in Keymod, M-LOK, or Pic rail. This means any buyer can customize any rifle any way.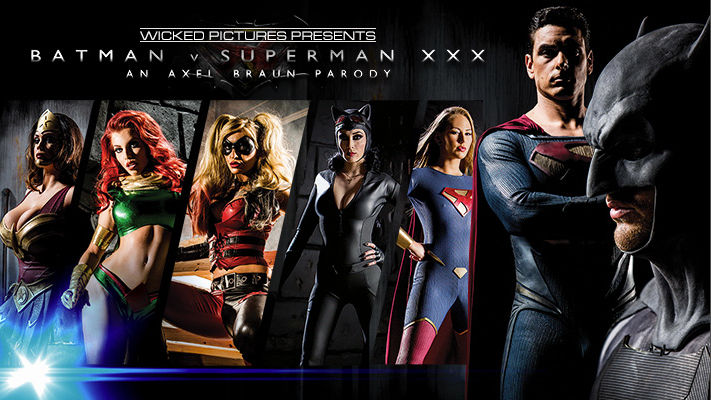 Something that is completely new to DD is the DD5V1 — that's right, DD has entered the .308 market. This is Daniel Defense's first stab at the .308 and I think they're going to do very well with it indeed. One cool feature of the DD5V1 is that it has no barrel nut and is completely ambidextrous (and it comes from the factory with a Geissele SSA trigger). The DD5V1 will retail at $2899, which will no doubt make a some people balk but those people can always just buy a Hi-Point carbine instead.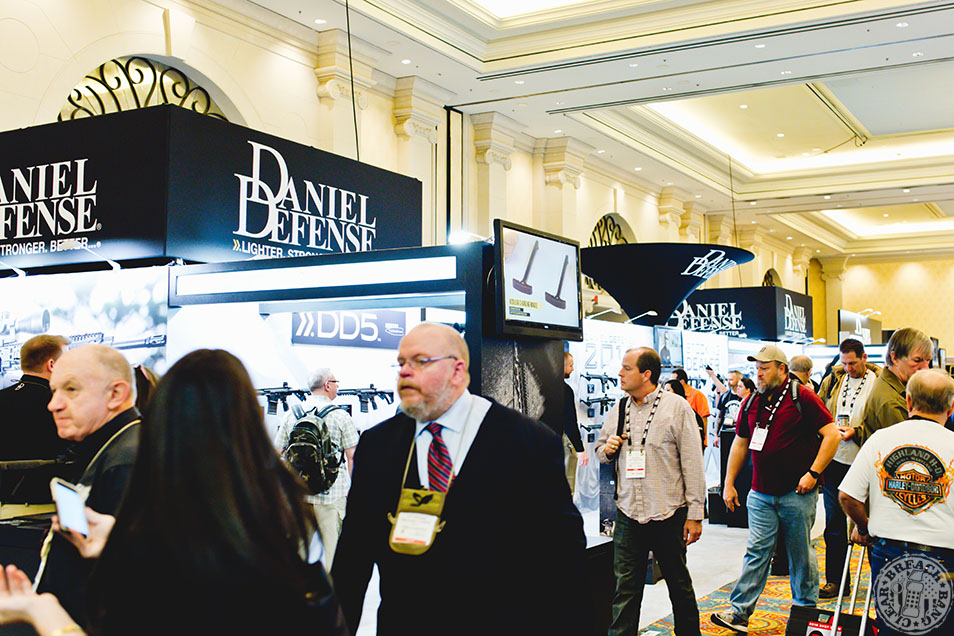 Then there was the DDM4 ISR. DDM4 Integrally Suppressed Rifle! Seriously. We'd donate organs to buy this gun (or sell yours and leave you in a bathtub full of ice). The ISR is chambered in 300 Blackout and, as the name/acronym would indicate, a suppressor built right in. The fluted barrel and suppressor measure a total of 16.1 in. long, making it a one tax stamp gun (we like stamp collecting as much as the next guy, but why spend more money than you have to?).
The DDM4 ISR's proprietary "MilSpec +" color is a little unusual, but boy it sure is purdy. More on all the new Daniel Defense products (including some pretty sweet co-branded Oakley glasses) in the weeks to come.
Learn more about Daniel Defense here. You can find 'em on Facebook right here or follow them on Instagram, @danieldefense. If you're a Twitter-er, their handle there is @DanielDefense.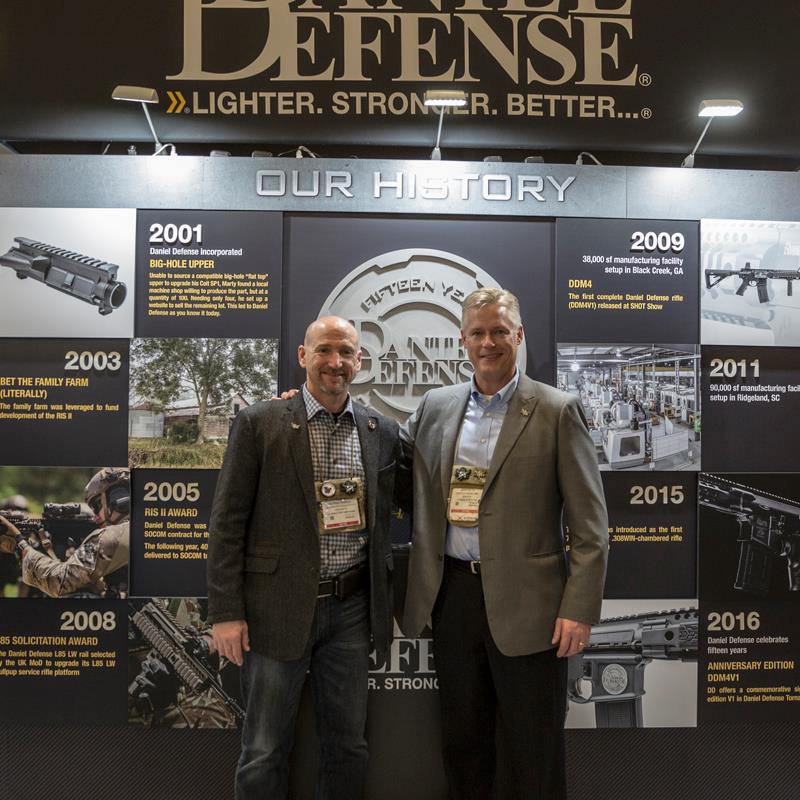 Mad Duo, Breach-Bang & CLEAR!
Comms Plan
Primary: Subscribe to our newsletter here, get the RSS feed and support us on Patreon right here.
Alternate: Join us on Facebook here or check us out on Instagram here.
Contingency: Exercise your inner perv with us on Tumblr here, follow us on Twitter here or connect on Google + here.
Emergency: Activate firefly, deploy green (or brown) star cluster, get your wank sock out of your ruck and stand by 'til we come get you.
About the Author: Big Joe Neuroth may look like a special live exhibit in the primate section of a traveling circus but he's actually a surprisingly erudite and articulate LEO of many year's service. A corn-fed Iowa native and former Border Patrol agent, Joseph's current job takes him all over the country and around the world in defense of Truth, Justice and the American Way. This has allowed him not just to deal with assorted malefactors from Nairobi to Panama, but also to have a wank on at least five continents. Joe enjoys training, teaching and catching bad guys almost as much as he likes bubble baths.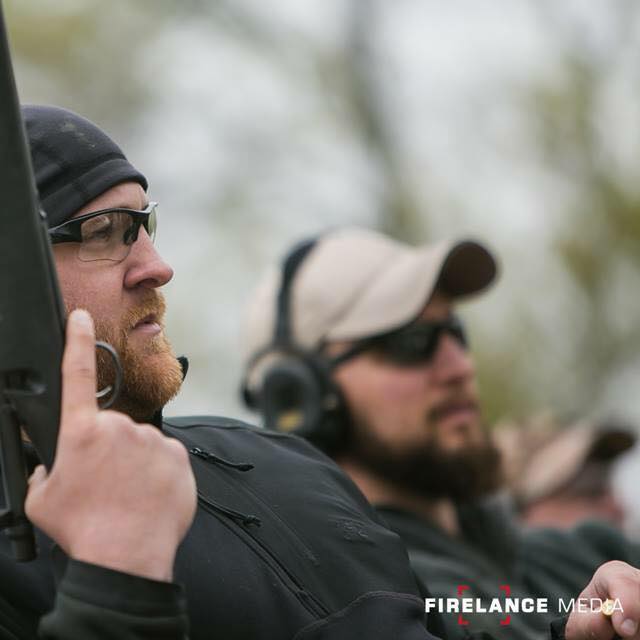 About the Photographer: Taylor Lange enjoys shooting a blaster as much as she does a camera. She's just about too nice to bear and just as talented and we're lucky to have her. So, we won't actually be making fun of her. Not yet anyway, but that won't last.